Art music in a concrete cavern: why you should see Suppression Dam
January 2, 2019
Words
"Think of the classical canon then think of its opposite"
Experimental art music in the cavernous concrete hall of a disused power station – that's

Suppression Dam

, a trio of compositions by three ensembles from New York, Berlin and Australia, premiering at Sydney Festival this year. We asked Ensemble Offspring's Artistic Director Claire Edwardes what to expect.
What attracted you to creating a performance in the Casula Powerhouse turbine hall?
For years I have found the turbine hall of Casula Powerhouse awe-inspiring. While the acoustic is not a traditional concert acoustic, I have always wanted to program music written especially for the space which uses its spaciousness to its advantage. This is always risky business, obviously, as there are so many unknowns – but Ensemble Offspring inhabits this world of playing on the edge of what's possible or doable all the time, so for us it's just a really exciting experiment, which will no doubt sound as amazing as the space looks!
What effect does the space have on the sound?
We won't really know till we set up and start rehearsing with all 12 musicians, but my feeling is that it will be very 'wet' and resonant and therefore quite immersive in terms of the way the sound will envelop the audience members' ears from all angles. We will also be encouraging people to change their listening position between pieces so that they can experience different elements of the space in the music during the concert.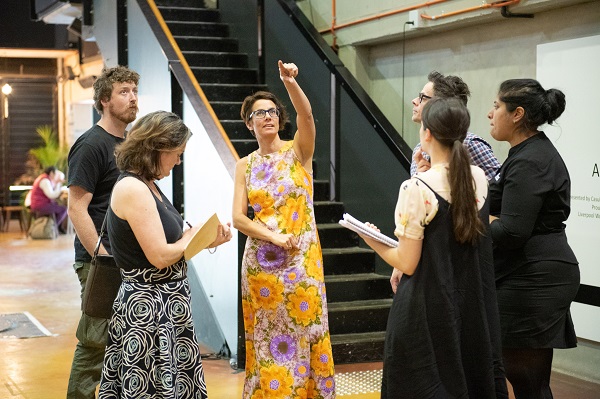 The Suppression Dam team on a reconnaissance mission at Casula Powerhouse


What have been the challenges of coordinating rehearsal with three ensembles from different countries?
Differing time zones is the basic obvious challenge for communication, and then there were all the different travel requirements of each country (as the plan was always to go to Sydney, Berlin and New York reciprocally), but basically it has been quite smooth so far as the leaders of each ensemble all happen to be very like-minded percussionists who I know well. I went to Amsterdam Conservatorium with Matthias Engler in 2002 and worked with Ross Karre with Speak Percussion at the first-ever Mona Foma Festival in Hobart in about 2011, so there is a big history there between all of us.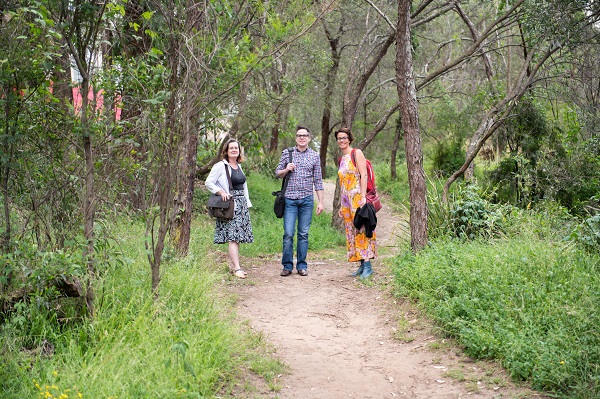 The musicians perform with amplified classical instruments, as I understand – what's the most unusual instrument used in the performance?
Well, Zubin our pianist will be playing a Korg Minilogue, which is a new type of synthesiser which none of us have seen or performed on before. We've got electric bass as well as double bass, and something unusual for an Ensemble Offspring show is the inclusion of a full-sized harp (played by Gunhilder from the German group Ensemble Adapter) with extended techniques being performed on it (that is when you stick things on the strings to make them buzz or use a bow to sound them instead of plucking) – it will be something to behold! There will also be electronic playback mixed with the 12 acoustic instrumental parts, which is an otherworldly sound world.
You've selected works by three female Australian composers – what was the selection process of picking compositions for this performance?
In 2017 Ensemble Offspring dedicated our entire season to the work of female composers. This was our way of contributing to greater equity in the classical music scene at large and the impact it had on me as an Artistic Director was huge, mostly because it meant I became very familiar with the work of a wide range of female composers. It has meant that the majority of our commissioning and programming has been of woman composers in 2018 and into the future – so in a way this program is not special in the sense that there are three female composers on the program, it's just normal, and that's the way it should be in this day and age!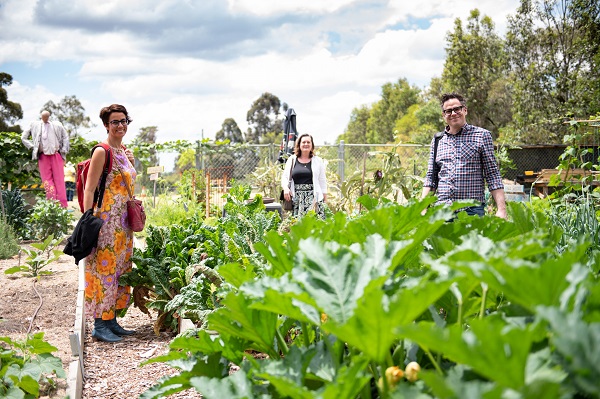 For Festival fans who haven't been to a performance by an art music ensemble before, how would you describe it and why is it a performance they need to experience?
Think of the classical canon and the Western art music tradition and then think about the most opposite thing you might ever hear to that style of music. It might be something like heavy metal perhaps?! A lot of the time art music sounds more like, say, jazz mixed with film music than refined Baroque or classical music, and the only real connection to the Western art music tradition is the fact that much of the music we play is notated (but it is also often improvised).
We are also all highly trained classical musicians, having spent years and years perfecting and honing our instrumental and musical crafts. But don't let this fact fool you – our music sounds nothing like Bach or Beethoven. Rather, it is living, breathing music written by living composers in the here and now – it is culturally relevant and often a sonic reflection of our everyday lives – it's current and raw – sometimes it's shocking and other times soothing. Audiences often comment after an Ensemble Offspring concert that they were stimulated in a fresh aural way – it's certainly an experience not to miss and will be one to remember!
Casula Powerhouse Arts Centre
Back to
Stories