BACK TO STORIES
What to know before you see Joan Didion's The White Album
A 3-part Joan Didion cheat sheet
If your knowledge of literary titan Joan Didion comes more from that perennially fashion-forward Julian Wasser photo series of her chilling with a cigarette and her new Corvette (featured on the cover of her second book of non-fiction, The White Album) than for her incisive and elegantly concise observational writing, then don't stress, we've put together a quick primer below to get you up to date before you go and see artist and director Lars Jan's radical restaging of The White Album at Sydney Festival 2020. Read/watch on below.
---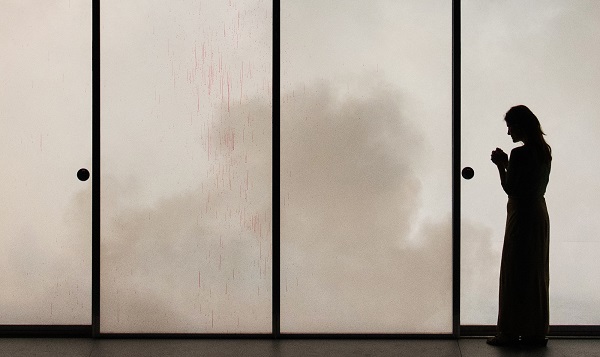 1. Get a quick primer on what
The White Album

is all about

The official summary of the book tells it best, describing Didion's landmark work of New Journalism as, "an extraordinary report on the aftermath of the 1960s in America… In this landmark essay collection, Joan Didion brilliantly interweaves her own 'bad dreams' with those of a nation confronting the dark underside of 1960s counterculture.

"From a jailhouse visit to Black Panther Party cofounder Huey Newton to witnessing First Lady of California Nancy Reagan pretend to pick flowers for the benefit of news cameras, Didion captures the paranoia and absurdity of the era with her signature blend of irony and insight."

Institutional racism, disaffected youth, an anxiety-ridden populace and a puffed-up, over-privileged celebrity dominating American politics – sound familiar?

Lars Jan's new staging of the essay juxtaposes Obie-winning actor Mia Barron reading Didion's highly theatrical text against a "play within a play" that happens onstage behind her, giving action to Didion's words and making comparison between the '60s social collapse described in the essay and the living nightmare of present-day injustice and violence.
---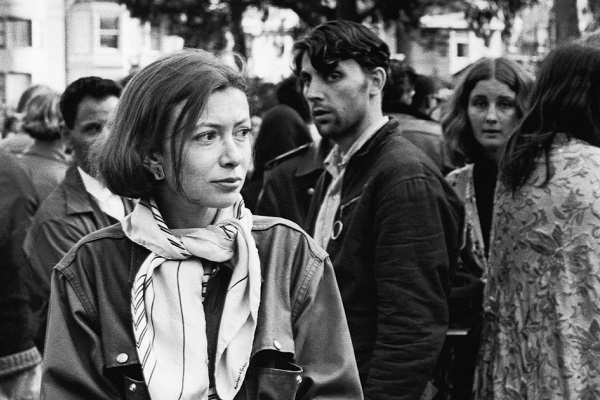 Photo by Ted Streshinsky via Getty Images
2. Read Didion's essay about the hippie movement,
Slouching Towards Bethlehem
Where fellow New Journalism pioneer Tom Wolfe saw in San Francisco's late '60s Haight Ashbury hippie scene a wild and wacky psychedelic journey towards a new utopia (captured in his book
The Electric Kool-Aid Acid Test
), Joan Didion saw a generation of children – "14, 15, 16 years old, younger all the time" – who had never been taught the rules and games that had previously made society function, and lacked the vocabulary to question why the social contract wasn't working for them.
"Maybe we had stopped believing in the rules ourselves, maybe we were having a failure of nerve about the game," Didion wrote in essay
Slouching Towards Bethlehem
, her first-hand report from the Haight Ashbury that lead, both thematically and linearly, to
The White Album
's doom-laden dissection of American culture and counterculture.
(Basically, if you've ever harboured romantic notions about being a San Francisco hippie in the late '60s, Didion's wincingly pointed recount of the lives of 15-year-old runaway speed heads will set you straight.)
Happily, you can read
Slouching Towards Bethlehem
for free on the
Saturday Evening Post

's site right here
.
---
3. Watch the Netflix documentary The Center Will Not Hold
And you'll be all set. Made by actor and director Griffin Dunne, who grew up with Didion as a family friend, the documentary has access to a rich store of archival footage as well as a stack of brand new interview footage with the still-dangerously-sharp-witted 84-year-old Didion.
The Center Will Not Hold
recounts Didion's life story, from her family's heritage as one of the first wave of European pioneer settlers in California to her early years writing for
Vogue
, through all her greatest fiction and non-fiction hits, her symbiotic but tempestuous life-long relationship with husband and fellow writer John Gregory Dunne, and everything in between.
You can watch it on
Netflix
or see the trailer below, and discover for yourself why, as
The New Yorker
writer Louis Lemand
put it
, readers remain fascinated by her "authorial persona, the hypersensitive neurasthenic who drove a Corvette Sting Ray, the frail gamine with the migraine headaches and the dark glasses and the searchlight mind, the writer who seemed to know in her bones what readers were afraid to face, which is that the center no longer holds, the falcon cannot hear the falconer, the story line is broken."

Joan Didion's The White Album
8–12 January
Roslyn Packer Theatre, Walsh Bay
Tickets and more