What to get everyone in your family for Xmas
Back to
Stories
November 20, 2017
Words
Uh oh, Christmas is coming up real soon and you still haven't thought about presents! What to do?
Don't panic – we've got your back. We've got thoughtful, cultural and affordable presents for every difficult-to-buy-for member of your family. Scroll down and let us sort out your Christmas gifts for you.
Your partner (who, let's be honest, deserves the best)
Hook them up with some tickets to see
Tree of Codes
(from $69 + bf). It's got a little something for everyone, whether they're into cutting edge contemporary dance, banging dance tunes by your boy Jamie xx, or visually spectacular installation art (or all of the above).
GET TICKETS FOR TREE OF CODES
Your dad, who has everything
What do you get the guy who has everything? You get them a Sydney Festival gift voucher. For instance, for just $39 + bf they can go and see an About An Hour show at Carriageworks, spanning everything from avantgarde dance and physical theatre to smutty British comedy, Freudian virtual reality adventures and environmentalist spoken word.
FIND OUT ABOUT GIFT VOUCHERS
Your mum, who 'doesn't want anything'
Get her something good, you scoundrel. Like a night out at the Magic Mirrors Spiegeltent watching the wild and disorderly Irish variety show
RIOT,
or the flirtatious and fabulous boylesque boys of
Briefs
(both from $70 + bf).
GET TICKETS FOR RIOT
GET TICKETS FOR BRIEFS
Your little ones/nephews and nieces/baby cousins
Got young-uns under 12 to find gifts for? Get them an Atelier session ($26 + booking fee) at
Jurassic Plastic
, where they'll learn from bona fide artists how to turn discarded toys into art.
GET TICKETS FOR JURASSIC PLASTIC ATELIER SESSIONS
Your uber cool teen relatives
Pussy Riot Theatre
: it's got punk rock, activism, sedition, prison, balaclavas and bad ass women – what's not to love? Take your teen rellos to this (from $62 + bf) and you'll earn cool points forever.
GET TICKETS FOR PUSSY RIOT THEATRE
Your kooky aunt
Send her along to the weirdest gig she'll ever see – five classical Danish musicians, playing custom-made instruments and singing underwater in large glass aquariums.
AquaSonic
is truly a one-of-a-kind experience, and will set you back from $59 + bf.
GET TICKETS FOR AQUASONIC
Your uncle with the questionable politics
Tell him you got him tickets to a play by a famous ABC actor, and send him along to learn about thousands of years of Torres Strait Islander culture from raconteur Jimi Bani at
My Name is Jimi
(previews start at $40 + bf).
GET TICKETS FOR MY NAME IS JIMI
Your feminist sister
New York's famous theatre collective The Wooster Group are making their Sydney debut with this raucous, "juicy, visceral" (The New York Times) play about a 1971 debate on women's liberation. See the priapic author Norman Mailer going toe to toe with leading second wave feminists and bathe in the tears of men's rights activists (tickets from $86 + bf).
GET TICKETS FOR THE TOWN HALL AFFAIR
Your brother, who only ever wants liquor for Christmas
Send him along to
Barber Shop Chronicles
at the Seymour Centre – it's a very funny, fast-paced, music-driven play about the barber shops where African men, and men of African descent, get together to talk sport, politics, women and worries. Tickets start at an affordable $49 + bf.
GET TICKETS FOR BARBER SHOP CHRONICLES
The posh matriarch/patriarch of the family
Grandparents who like the finer things in life? Get them a ticket for one of the Seidler Salon Series shows. It's classical music in Harry Seidler's beautiful Modernist buildings, preceded by a talk about music and architecture – basically Radio National come to life.
GET TICKETS FOR THE SEIDLER SALON SERIES
Your interstate relatives, who are a little in awe of Sydney
Got relatives from out of town visiting for Xmas? Give them the ultimate Sydney tourist experience – a ticket on a ferry for the beloved annual Ferrython on Australia Day. Tickets include lunch, drinks, and a race on the Harbour they'll never forget.
GET TICKETS FOR FERRYTHON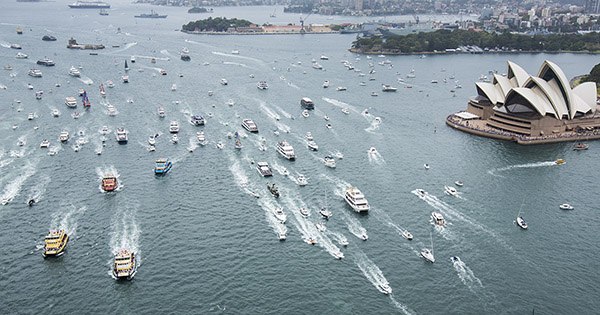 Your Kris Kringle or Secret Santa at work, about whom you know nothing
What on earth will you get Gemma from HR? Easy – a Priority Pass for the Village Sideshow will set you back $20 and gets your lucky Secret Santa recipient unlimited access to three attractions at the Village Sideshow: the virtual reality
Ghost Train
, the
Karaoke Carousel
, and
Ten Minute Dance Parties by JOF
.
GET A VILLAGE SIDESHOW PRIORITY PASS
---
Nick Jarvis is a journalist, copywriter and Publications Editor at Sydney Festival and Sydney Film Festival. He's written for Vice, Time Out, inthemix, Junkee and various other online media and street press over the years.