Very serious art-rockers Otto & Astrid reveal all about Rock Bang
November 13, 2018
Words
Circus meets rock'n'roll meets absurdity
"Berlin's Prince and Princess of art rock and Europop" Otto and Astrid, AKA Die Roten Punkte (Sydney Festival 2017), are back for #sydfest 2019 with
Rock Bang
, a brand new rock'n'roll-meets-circus collaboration with the "bendy people" of Circus Oz (
Model Citizens
, Sydney Festival 2018).
We got a little time with Otto to find out what sets
Rock Bang
apart from other circus shows, and what Otto and Astrid have been up to since their last time at the Festival.
How is the German underground punk scene treating Otto & Astrid in 2018?
Astrid and I spend so much time touring around the world that we don't get enough time to hang out in our hometown of Berlin. But when we are home, Astrid and I love going to places in Berlin like Clash, Schokoladen and Franken.
For fans who saw Die Roten Punkte at Sydney Festival 2017, what sets

Rock Bang

apart from that show?
Our 2017 Sydney Festival show was a concert with all the songs from our album
Eurosmash
. 2019 is a circus rock opera featuring super bendy Circus Oz acrobats with some songs from past albums and some all-new tunes written especially for this show. People are used to seeing us in a rock show, but this is a big story of our lives told through rock 'n' roll AND circus.
How did the collaborative process for

Rock Bang

work, between you guys and Circus Oz?
For the last couple of years we have been experimenting at Circus Oz HQ. We try out ideas with director Rob Tannion and the Circus Oz acrobats and then do little showings to see if it works. Then we write some more and try it all out again.
How do you warm-up and get in the zone before a show?
Before every show Astrid and I do a thing called 'Coming Together'. We hold hands and say nice things and get ready to explode onstage.
Are there new Otto & Astrid songs in the works? What themes and ideas have been popping up in your songwriting?
Yes, we have quite a few new songs written especially for
Rock Bang
! There's a new song about a lion. You can never have enough songs about lions. Astrid sings a song that reminds me of Kenny Loggins in the 80s. So much fun!
Can you reveal some of the circus stunts we'll see from Circus Oz in

Rock Bang

?
You will definitely see all the Circus Oz bendy people flying through the air. Sometimes they stand on each other's heads. I also get to fly in the air which I am super excited about!
You're playing 10 nights in a row in November – how do you keep the energy up night after night?
Bananas for me. Astrid likes to eat a sausage and a cake before and after every show.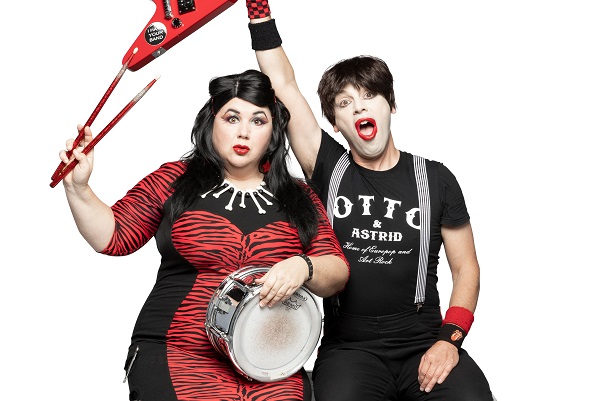 What's new in

Rock Bang

that hasn't been seen before from Otto & Astrid?
Singing and flying in the air at the same time alongside incredible acrobats! I've had a shiny rocket outfit made for me, which I get to fly in and Astrid gets to ride a skateboard wearing floaties!
We hear there may be some provocative themes and nudity involved: can you elaborate/corroborate?
Astrid just wrote that so she can do anything in the show. And she probably will.
Would you be appalled or delighted to be described as 'Tenacious D dressed in Dangerfield'?
Ha ha! That's pretty funny, but Tenacious D perform comedy. We are a serious Europop, post-punk, art rock band.
10–13 January
Riverside Theatres
Back to
Stories