BACK TO STORIES
Why Inua Ellams is better than you
Direct from the National Theatre in London, 'Barber Shop Chronicles' premieres in Australia at Sydney Festival on 18 January.
The play has collected five star reviews for its "joyous, life affirming" (The Independent) tales of African and African-descent men joking, sharing stories and getting sharp fades in barber shops from Johannesburg to London; but even more impressive than the reviews is the CV of the poet, performer and writer behind the play.

Born in Nigeria and based in London, Inua Ellams' work often explores ideas of identity, belonging, displacement and destiny as a refugee. He's also outrageously prolific, as you'll see.
---
1. He's written four books of poetry
Ellams started performing his own poetry on stage at the age of 19, influenced by the Romantic poets and the flow and wordplay of hip hop (he cites Mos Def aka Yasiin Bey and John Keats as his most important influences).
Two years later he published his first pamphlet of poems, and this year he just published his fourth book of poetry #Afterhours, inspired by his time as the poet in residence at London's Southbank Centre, exploring the rare books of the Poetry Library. Further back in his bibliography you'll find poetry pamphlets Candy Coated Unicorns and Converse All Stars, Thirteen Fairy Negro Tales and The Wire-Headed Heathen (oh yes, and he's also a Complete Works poet alumni).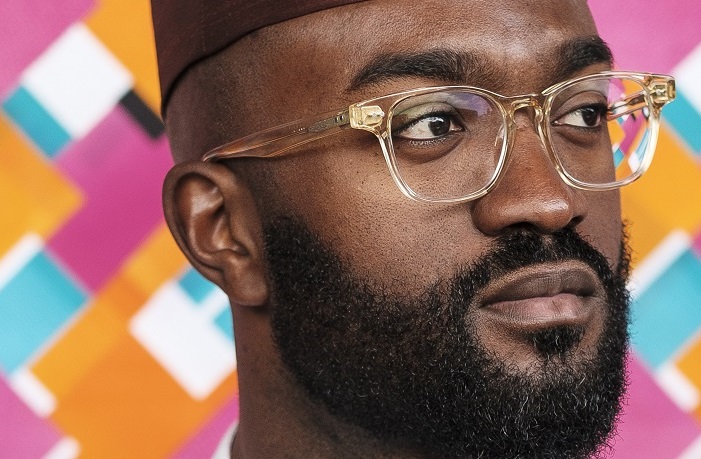 Inua Ellams. Photo: Oliver Holms

2. As well as 12 plays...
His very first play The 14th Tale charted Ellams' "real life journey from his birth place in Nigeria to the culture-shock of England, charting his trials, tribulations and mischief-making along the way." It won a prestigious Fringe First Award at the 2009 Edinburgh Festival Fringe, and later toured around the UK, before transferring to The National Theatre in London.
The National Theatre has also put on productions of Black T-Shirt Collection and Barber Shop Chronicles, while elsewhere around the UK Ellams has written plays for Soho Theatre, Battersea Arts Centre, Trafalgar Studios, Theatre503, Greenwich + Docklands Festival, Islington Community Theatre, the Unicorn, West Yorkshire Playhouse and China Plate theatre.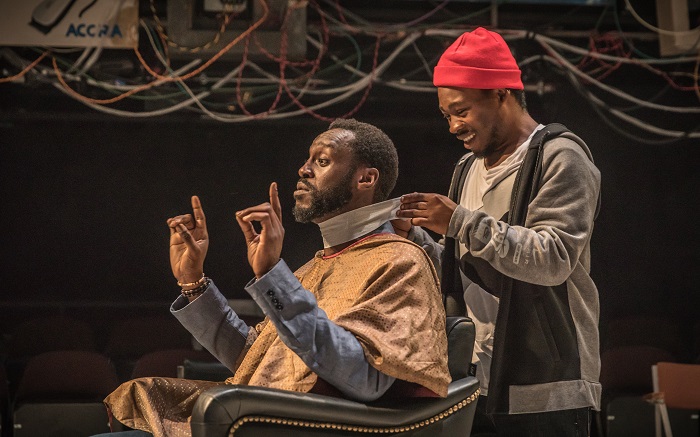 Barber Shop Chronicles. Photo: Marc Brenner
3. He's also a graphic artist during the day…
Because being a writer and performer isn't enough of creative outlet, he also works as a designer and graphic artist at White Space Creative Agency in London, where his work mixes "the old with the new, juxtaposing texture and pigment with flat shades of colour and vector images". You can check out his street art and portrait photography inspired portfolio over at phaze05.com.

4. Plus he founded the R.A.P. Party and The Midnight Run
The Midnight Run // 16/08/2014 from Inua Ellams on Vimeo.
After work, most people struggle just making it to the couch to switch on Netflix and dip bread into anything runnier than bread. Not this guy – Ellams has founded two regular events that bring together people and poetry.
The Midnight Run is "a dusk to dawn cultural walking tour of a city," where 12 strangers get together and walk across a city for 12 hours between 6pm and 6am, getting to know each other as they explore the city's nooks and crannies, interspersed with rest stops to hear poetry and music, and to do Tai Chi and play basketball.
The idea for the Midnight Run came when Ellams and a friend got tired of waiting for a late night London bus and decided to cross the city on foot instead, exploring the deserted parks, back streets, basketball courts and courtyards. To date, there have been 25 Midnight Runs in cities as diverse as Madrid, Milan and Auckland.
The R.A.P Party - Rhythm And Poetry Party – meanwhile is a regular "nostalgic, no-clutter, no-fuss, straight-up evening" of top contemporary poets brought together to celebrate all-time-great rap verses, perform hip hop inspired poems and screen films about rap and poetry.

5. And dude is only 32 years old.
I mean come on. Do you even sleep, Ellams?

Catch Inua Ellams' Barber Shop Chronicles at the Seymour Centre between 18 and 28 January – you can get tickets here.

---
Nick Jarvis is a journalist, copywriter and Publications Editor at Sydney Festival and Sydney Film Festival. He's written for Vice, Time Out, inthemix, Junkee and various other online media and street press over the years.