BACK TO STORIES
We've launched! How to tackle Sydney Festival 2020's opening weekend
Insider tips on how to take on the Festival's first week, including where to find the freebies and the shows you absolutely can't miss.
Wednesday 8 January
Dodecalis Luminarium
As you might have noticed, the air quality around Sydney has been bit apocalyptic of late, so if you're keen to check out the giant, luminescent domes and tunnels of inflated megastructure
Dodecalis Luminarium
, we recommend getting in early (before any unscheduled necessary closures).
You can check it out for free by joining the queue between 10am and 5pm, or guarantee your slot with a ticketed session before and after those times.
Tumbalong Park, Darling Harbour
Free
10am to 5pm
Ticketed sessions 9am, 9.30am, 6pm, 6.30pm (16+ only) and 7pm (16+ only)
Tickets and more info here

---
Thursday 9 January
Joan Didion's The White Album
Acerbic writer and journalist Joan Didion's
The White Album
has iconic status as a landmark report on the vicious, spiralling demise of the utopian dream of 1960s American counter culture, and the paranoia, racism and institutional violence that came wake of "peace and love".
Installation artist and director Lars Jan and his theatre Early Morning Opera see some similarities between that era and the present day (racial and class tension, growing social divides, an unqualified celebrity as President), and they draw out those juxtapositions in this must-see stage experience.
Roslyn Packer Theatre
Walsh Bay
7.30pm
Tickets and more info
---
Friday 10 January
Frontera
The most radical work you'll see at Sydney Festival this year: a collaboration between revered choreographer Dana Gingras and her dance company Animals of Distinction, with jaw-dropping lighting design and strobing by collective United Visual Artists, and a decibel-quaking live soundtrack by Montreal post-rock icons Fly Pan Am.
Carriageworks
7.30pm
Tickets and more info
---
Saturday 11 January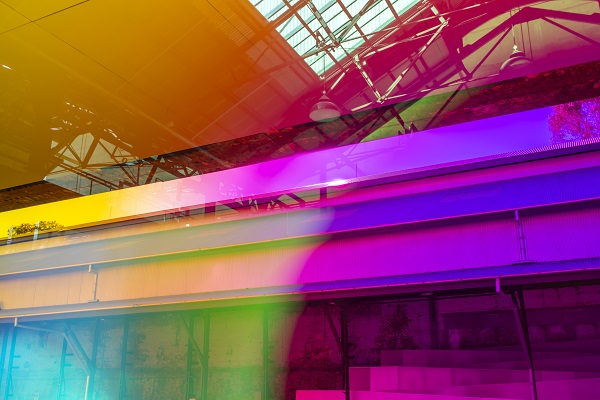 Daytime: Free art at Carriageworks + TRUTHMACHINE
Get down to Carriageworks to see four epic art installations:
Radiant Flux
, which sees the entire glass exterior covered in dichroic film, casting ever-changing hyper-coloured light inside Carriageworks; the giant illuminated sign
REMEMBER ME
, a monument to our Indigenous heritage and future; Kudjala/Gangalu artist Daniel Boyd's psychedelic video projections
VIDEO WORKS
; and Kate Mitchell's monumental photography project
All Auras Touch
, capturing the aura of one representative of every job in Australia.
While you're at Carriageworks, schedule in a quick 20 minute and $15 visit to TRUTHMACHINE, an immersive small-scale performance where one member of the audience is invited onstage to be hooked up to a lie detector machine and probed with questions as their friends and strangers listen (and giggle) on.
Radiant Flux, Remember Me, All Auras Touch and Daniel Boyd: Video Works
Carriageworks
Free
More info

TRUTHMACHINE
Carriageworks
From 11am
Tickets and more info
---
Evening: Two Crews
Australian choreographer Nick Powers is the preeminent artist bringing together hip hop and break dancing with contemporary dance, and his latest project brings together two crews from opposite ends of the earth – Sydney squad Riddim Nation and all-women Parisian crew Lady Rocks – for a joyous celebration of the hip hop cypher.
Carriageworks
2pm, 7pm
Tickets and more info
---
Sunday 12 January
Daytime: Laser Beak Man
One for fans of joyous puppetry theatre and Ball Park Music, as well as a kid-appropriate Opera House experience, cult-classic superhero Laser Beak Man is ingeniously brought to life with eye-popping staging by Dead Puppet Society (
The Wider Earth
, Sydney Festival 2018).
Drama Theatre
Sydney Opera House
2pm, 7pm
Tickets and more info

---
Evening: Betty Blokk Buster Reimagined
On 16 April 1975, a saucy hausfrau with a feather duster and a bare bottom stepped onto the stage of the Balmain Bijou and changed Australian theatre forever; its creator and star Reg Livermore (also the first Australian Dr. Frank-N-Furter in
Rocky Horror Picture Show
) was hailed as a genius.
Inspired by the original 1975 staging and created with Livermore's imprimatur, this 21st century Betty Blokk-Buster invites Sydney Festival audiences into her tent show, where a live band and Betty's coterie of reinvented has-beens, battlers, freaks and survivors are waiting to wow a new generation.
Magic Mirrors Spiegeltent
Hyde Park
6.30pm
Tickets and more info

EXPLORE THE FULL PROGRAM HERE