The hot 1930s Shanghai jazz style nearly lost forever
November 23, 2018
Words
Hear it brought back to life in Shanghai MiMi
In the 1930s, Shanghai was a diverse and cosmopolitan centre for trade, commerce and less legitimate business,
dubbed
"the Paris of the East and the New York of the West."
Colonising capitalists from Britain, France, the USA and other countries had carved out "concessions" within the city, where they could operate outside of Chinese laws.

The flow of outside money, diversity of cultures and general lawlessness meant that Shanghai was both a beacon for the underworld (such as opium smugglers) and a centre of artistic innovation for Chinese music and cinema.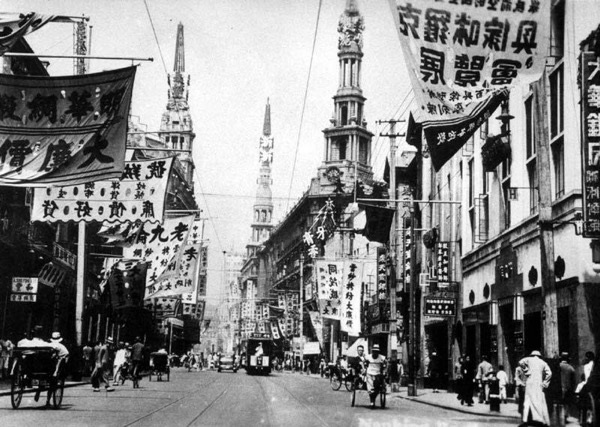 In particular, the risqué cabaret culture and influx of American and European jazz musicians fuelled the rise of a new genre called
Shidaiqu
that fused traditional Chinese folk with American jazz and blues, sung by movie stars and pop divas.
Immensely popular at the time,
Shidaiqu
was almost lost to the ages after being banned as pornographic when the Communist party took control of Shanghai in 1949.
Musical cabaret
Shànghǎi MiM
i, directed by Australian burlesque innovator Moira Finucane, pays homage to the cosmopolitan world of 1930s Shanghai and its
Shidaiqu
soundtrack, with Chinese acrobats and dancers making their first appearance in Australia, and a hotshot live jazz band.
And the music itself comes with an almost unbelievable backstory of disappearance and rediscovery, as
Shànghǎi MiMi
producer Douglas Hunter explains.
"In 2003, EMI was clearing out an old warehouse in Mumbai, India in preparation for its demolition, having been there since the 1920s when it manufactured and distributed records under the Pathé label," Hunter says.
"In the warehouse, workmen unearthed a trunk with Chinese writing on it. Inside were the mother shells of about 800 songs from the 30s and 40s. These were the reels used to press the stamper that produced the old vinyl 78s. This nearly-lost music is as unique as the city of Shanghai itself – a mix of American jazz fusion and Chinese folk songs."
We asked
Shànghǎi MiMi
's Musical Director John McAll to select five essential
Shidaiqu
(and related) songs from the
Shànghǎi MiMi
soundtrack that you should hear before you see the show.
#5 Bai Guang – Dang Zhe Ni Hui Lai (Waiting for You)
#4 Zhou Xuan – Bu Yao Chang Ba
#3 Yao Lee – De Bu Dao De Ai Qing
#2 Benny Goodman – Sing Sing Sing
#1 Zhang Lu – All the Stars in the Sky
Shànghǎi MiMi
10–20 January
Riverside Theatres
Tickets and more info
Back to
Stories