Why critics and audiences are raving about Beware of Pity
January 24, 2019
Words
"★★★★½: an intensely realised, highly emotional experience"
Boundary-smashing German ensemble Schaubühne Berlin's first collaboration with beloved Complicité director Simon McBurney, Beware of Pity, premiered at Sydney Festival last night to a full house and a rapturous response.

From the bold, spare staging to the superb acting, morally complex story and innovative use of video projection and live on-stage GoPro feeds, it was the type of affecting, adventurous performance rarely seen in Australian theatres.

Read on below to see what reviewers and punters have been saying about Beware of Pity – there are still a few tickets left before the run ends on Sunday 27 January (grab your tickets here).


LIMELIGHT MAGAZINE REVIEW

★★★★½
"For the first five or so minutes, it feels like a train hurtling past you. Several actors are sharing the narrative, speaking (in German) into microphones, their dialogue intercutting at times, as the surtitles flash past in a relatively small space on the back wall. Your senses are on high alert as you try to follow who is saying what. And then suddenly you are attuned, enveloped by the words and the inventive staging, and swept up in an intense, compelling production...
"Although, initially, the staging looks and feels as if the production will take a cerebral approach, it is in fact an intensely realised, highly emotional experience, keeping you on the edge of your seat…a chilling reminder that the world is once again moving towards catastrophe."
READ MORE
AUDREY JOURNAL REVIEW
★★★★½
"Stefan Zweig's exquisite story of self-deceit and selfishness is brought to vivid life in this first-time co-production between two of Europe's theatrical powerhouses: Berlin's Schaubühne and London's Complicité.
"I haven't experienced a more gripping adaptation of a novel to the stage since New York's Elevator Repair Service brought
Gatz
(its unabridged staging of
The Great Gatsby
) to the Sydney Opera House a decade ago.

"McBurney's arrangement of sound and vision is constantly arresting. The ensemble is exceptionally precise. The tension is slow to build but irresistible."

READ MORE


SYDNEY MORNING HERALD REVIEW
★★★★½

"The acting is thrilling in its intensity and truth and mesmerising in its realisation of [director Simon] McBurney's trademark visual story-telling... Just as the words are made to float on the physical acting, so the music and sound (Pete Malkin​), video (Will Duke), set (Anna Fleischle​) and costumes (Holly Waddington) all submerge themselves beneath the dream-play surface. Extraordinary coups still occur, but never merely to amaze us.

"Those familiar with Zweig's​ extraordinary book will be amazed at how McBurney and his ensemble – who collaboratively​ devised the script – have condensed 450 pages into two hours, yet preserved the characterisations, emotional impact, metaphorical implications and, above all, the relentless narrative drive."

READ MORE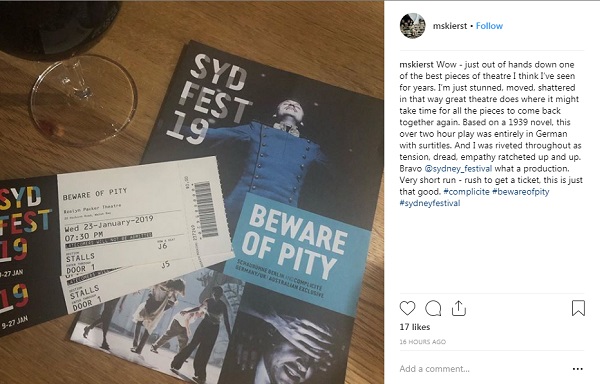 "Wow - just out of hands down one of the best pieces of theatre I think I've seen for years. I'm just stunned, moved, shattered in that way great theatre does where it might take time for all the pieces to come back together again. Based on a 1939 novel, this over two hour play was entirely in German with surtitles. And I was riveted throughout as tension, dread, empathy ratcheted up and up. Bravo @sydney_festival what a production. Very short run - rush to get a ticket, this is just that good. #complicite #bewareofpity #sydneyfestival"
@mskierst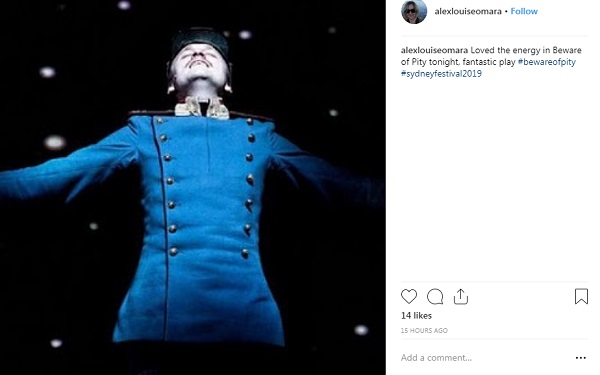 "Beware of Pity @sydney_festival: riveting, spelling binding, extraordinary. A total must see"

See it. I'm all shook up. Painfully precise, intimate, involving theatre. #SydneyFestival #Complicité #Schaubühne https://t.co/yvI2QqemTa

— Dave-gonronpa (@deadphoenix47) January 23, 2019
Beware of pity, a German play part of Sydney Festival, is yet another captivating performance. Well done!!!

— Brandon Tan (@Zx_senna_xZ) January 23, 2019
alrighty while the story of #BewareOfPity was definitely a bit more depressing than what I'd normally go see, the #SydFest production of it was so well done - stirring, evocative and fascinating, all the things that art should be

— Klementine Sander (@KlementineBS) January 23, 2019
Congrats to @schaubuehne & @Complicite for their excellent performance last night. Don't miss #BewareOfPity at @sydney_festival this year. Here's #SydFest artistic director Wesley Enoch speaking at the @TheRoslynPacker before the play began pic.twitter.com/3GGuvYBIYf

— Goethe-Institut AUS (@GI_Australien) January 23, 2019




Beware of Pity created by @schaubuehne/@Complicite presented by @sydney_festival is an epic, sophisticated investigation into the complexities of compassion. Secret tensions are revealed between words/actions/thoughts as we tumble inexorably toward total disintegration. #sydfest pic.twitter.com/x66RQSkfB0

— Augusta Supple (@AugustaSupple) January 24, 2019

Loved BEWARE OF PITY: such a well-performed piece of theatre. Tight and precise, but never too cold for emotional impact. A fine way to end #sydfest.

— Jez Fletcher (@jezfletcher) January 24, 2019
I've seen two truly mind-blowing shows in the last two nights, BEWARE OF PITY @Sydney_festival & HERRINGBONE @KXT_bAKEHOUSE One has a slow build to a spectacular climax, the other is bonkers right from the start. Both very short seasons. Get into it. #arts

— Elissa Blake (@elissablake) January 24, 2019
Beware of Pity
23–27 January
Roslyn Packer Theatre
$79–$109 + BF
Back to
Stories