BACK TO STORIES
Under 30? Here are 17 shows with cheaper tickets for you
Livin' la vida low income? We've got you.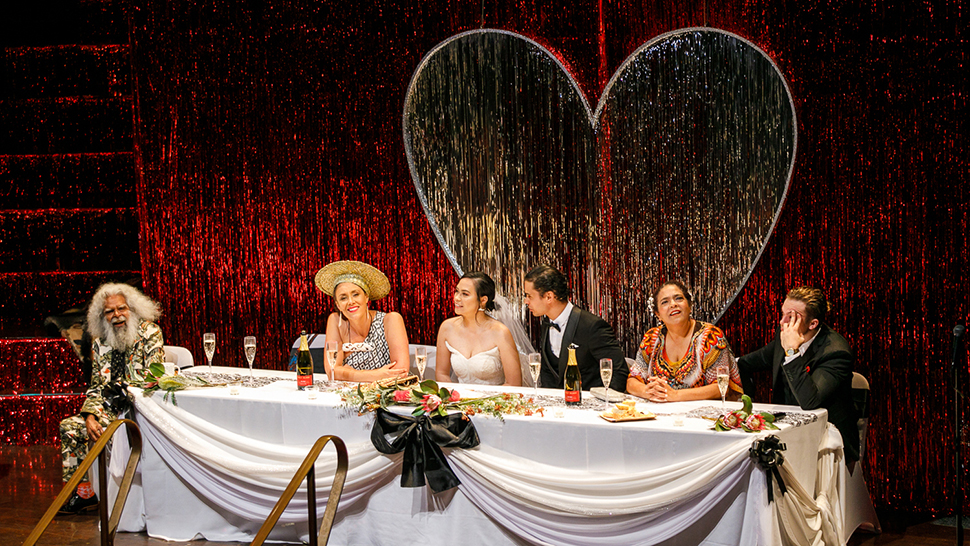 Life is expensive on a low-to-average income, but experiencing incredible art, music and performance doesn't have to be.
For the 2020 Festival we've reduced pricing for under 30s, so you can see 17 of our biggest shows – including flagship theatre, music and Spiegeltent cabaret shows – for a very reasonable $39–$49 + booking fee.
Under 30 tickets are strictly limited, so we recommend getting in quick if you're keen (you'll need proof of age to collect your tickets).
---
BLACK TIES
Hera and Kane are getting married and you're invited to the party – but so are their chaotic relatives. Welcome to the party at the Blackest wedding ever.
Sydney Town Hall
10–18 January
$39 + booking fee
Tickets and more
---
Joan Didion's The White Album
First published in 1979, Joan Didion's landmark work of New Journalism The White Album was "an extraordinary report on the aftermath of the 1960s in America… brilliantly interweav[ing] her own 'bad dreams' with those of a nation confronting the dark underside of 1960s counterculture."
Institutional racism, disaffected youth, an anxiety-ridden populace and a puffed-up, over-privileged celebrity dominating American politics – sound familiar?
Lars Jan's new staging of the essay juxtaposes Obie-winning actor Mia Barron reading Didion's highly theatrical text against a "play within a play" that happens onstage behind her, giving action to Didion's words and making comparison between the 1960s social collapse described in the essay and the living nightmare of present-day injustice and violence.
Roslyn Packer Theatre
Walsh Bay
8–12 January
$49 + booking fee
Tickets and more
---
Betty Blokk-Buster Reimagined
A risqué reboot of the revolutionary 1970s cabaret that changed Australian theatre. Hold on to your pants.

Inspired by the original 1975 staging and created with Livermore's imprimatur, this 21st century Betty Blokk-Buster invites Sydney Festival audiences into her tent show, where a live band and Betty's coterie of reinvented has-beens, battlers, freaks and survivors are waiting to wow a new generation.
Magic Mirrors Spiegeltent
Hyde Park
7–26 January
$39 + booking fee
Tickets and more
---
LIFE - the show
From Strut & Fret, the mad-genius makers behind LIMBO (Sydney Festival 2014 and 2015) and Cantina (Sydney Festival 2013), comes a joyful celebration of what it means to be alive – from first meeting to first mating, from birth-control to breastfeeding, and beyond.
Starring international clowning royalty Goos Meeuwsen and Helena Bittencourt (Cirque du Soleil), bass sax supremo Blaise Garza (Violent Femmes), dancer and vocalist Rechelle Mansour (Velvet), tap dancer Hilton Denis (LIMBO), aerialist Elke Uhd (Palazzo) and powerhouse American drummer Attis Clopton.
Magic Mirrors Spiegeltent
Hyde Park
8–26 January
$39 + booking fee
Tickets and more
---
Tenebrae – Masterworks of the Renaissance
Exquisite, transcendent choral music by a world-leading vocal ensemble, renowned for its passion and precision. Tenebrae's Masterworks of the Renaissance program features the requiem mass by Tomás Luis de Victoria, a masterpiece of the Spanish Renaissance.
City Recital Hall
21 January
$49 + booking fee
Tickets and more
---
Tenebrae – Music of the Spheres
For Music of the Spheres, Tenebrae has gathered work by some of Britain's greatest poets and composers – Shakespeare, Shelley, Byron, Tennyson and Milton – in settings by Elgar, Vaughan Williams, Holst and others.
City Recital Hall
22 January
$49 + booking fee
Tickets and more
---
Romances inciertos, un autre Orlando
Choreographer-dancer-singer François Chaignaud and four period-instrument musicians slice through Spanish history from the Golden Age to the 21st century, in a joyously theatrical blend of Baroque music, cabaret, flamenco, and gender play.
Carriageworks
21–26 January
$39 + booking fee
Tickets and more
---
Anthem
Five of Australia's finest playwrights reunite to ask if Australia really does sing with one voice.

Over four interwoven vignettes, the writers take us inside four stories of characters you could encounter on any public transport journey: an overworked, minimum wage, gig-economy couple planning a Bonnie and Clyde style rampage of revenge against neoliberal capitalism; a sophisticated Louis Vuitton and Chanel toting woman who has been reduced to homelessness by divorce, gender and a lack of financial independence; and Christos Tsiolkas's contribution, which explores sibling tensions when a successful brother returns from overseas to try and "better" the lives of his family.

The Age called it "tough, funny theatre with an urgency to its purpose and no comfortable answers. It can't say everything about modern Australia, but what it does say rings true."
Roslyn Packer Theatre
Walsh Bay
15–19 January
$39 + booking fee
Tickets and more
---
I'm A Phoenix, Bitch
Performance artist Bryony Kimmings' offbeat, deeply funny and sharply heartbreaking feminist musical about the worst year of her life, when she lost her mind, her partner, her house and nearly lost her child.
Sydney Opera House
14–17 January
$39 + booking fee
Tickets and more
---
Colossus
Is a crowd more than the sum of its parts? To what extent is the mood of a crowd a reflection of its individuals, and how are those individuals changed by the experience of humanity en masse?
These questions and more inspire Australian choreographer Stephanie Lake's Colossus, an epic work featuring 50 dance students from Ev & Bow, NAISDA, New Zealand School of Dance and Sydney Dance Company's Pre-Professional Year.
Hypnotic and visually stunning, Lake's symmetrically satisfying dance work sees all 50 bodies move as one. Exploring the beauty and ugliness of the collective experience, Colossus builds and re-builds towards a united, frenetic and formidable utopia.
Carriageworks
16–19 January
$39 + booking fee
Tickets and more
---
Frontera
Take a leap into the most forward-thinking, revolutionary work at Sydney Festival, combining dance and movement, physical theatre, a visual art installation by United Visual Artists and a live soundtrack by French Canadian post-rock legends Fly Pan Am.
In an era of rising nationalism and mass surveillance, the human body is subject to increasingly invasive forms of oversight and processing. Canadian avant-garde choreographer Dana Gingras and her dancers ask: what space remains for the unruly, ungovernable body?
Visual Concept & Scenography: United Visual Artists
Music: Fly Pan Am
Carriageworks
8–12 January
$39 + booking fee
Tickets and more
---
POOF! Secrets of a Magician
James Galea's outrageous mix of wizardry, music and comedy that peels back the magician's curtain. Master showman James Galea reveals all in a hilarious, confessional adults-only show that poses questions-in-song such as Are All Magicians Gay? and spills the tea on the enigmas of magic and psychics, from the fall-out when chicanery goes wrong to what happens when you know all the secrets and lose touch with the magic in your own life.
Drama Theatre
Sydney Opera House
21–26 January
$39 + booking fee
Tickets and more
---
Archie Roach: Tell Me Why
Legendary songwriter and 'voice of the Stolen Generations' Archie Roach brings his life story to the stage in Tell Me Why, a spectacular live concert celebrating his eponymous memoir and latest album.
City Recital Hall
24 January
$49 + booking fee
Tickets and more
---
Jeremy Dutcher
Canadian First Nations musician Jeremy Dutcher performs his unique modern rearrangements of rare archival recordings of his ancestors' songs. Singing in Wolastoqey language spoken by his mother and grandmother, Dutcher's sonorous tenor recalls Zach 'Beirut' Condon, while his re-arrangements veer from Western classical and neo-operatic to jazz and trip hop, woven together with powerful samples of the original field recordings.
City Recital Hall
17 January
$39 + booking fee
Tickets and more
---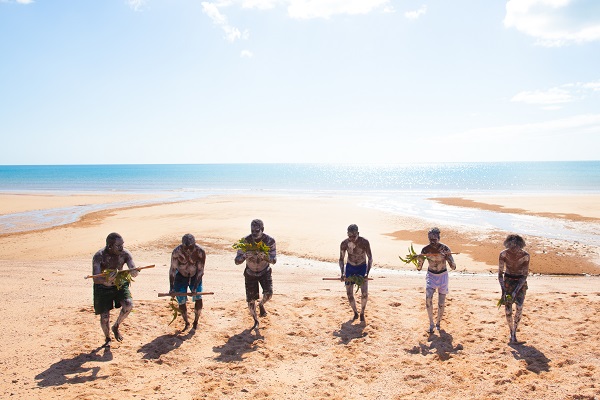 Buŋgul
Gurrumul's Mother's Buŋgul
Gurrumul's Grandmother's Buŋgul
Gurrumul's Manikay
An exquisite tribute to the talent and musical legacy of Gurrumul Yunupiŋu, with the Sydney Symphony Orchestra. Created on country in North East Arnhem Land with the Yunupiŋu family, Buŋgul is a ceremonial celebration of Dr G's final, posthumously released album Djarimirri (Child of the Rainbow), one of the transcendent albums of our time.
Sydney Opera House
25 January
$39 + booking fee
Tickets and more
---
Sydney Rococo: Steve Kilbey & The George Ellis Orchestra
The prolific Steve Kilbey, frontman of alt-rock icons The Church, performs his new solo album in full for one night only, accompanied by the George Ellis Orchestra and his world-class recording band.
City Recital Hall
19 January
$39 + booking fee
Tickets and more
---
Atlas of the Sky
An innovative percussion work of dramatic and ritualistic power by acclaimed composer Liza Lim. The singers and performers use purpose-built instruments, including string drums, stones, wood blocks and the semantron – a resonant plank of wood used in Greek and Eastern European Christian Orthodox ritual – to tell aural stories about the stars, the power of crowds and changing constellations of memory.
City Recital Hall
16 January
$39 + booking fee
Tickets and more