Sydney Festival on Tour
Back to
Stories
March 20, 2018
Words
When Sydney Festival Director Wesley Enoch heard that Jonathan Bielski was opening his first Auckland Festival with Akram Khan's Giselle he had no hesitation in accepting his invitation to head 'across the ditch' with a group of the Festival's private supporters.
One of the benefits of being a Festival donor is access to unique opportunities, and the curated three-night Ballet and Art in Auckland tour was a truly one-of-a-kind experience.
The adventure started with a moving 'Mihi Whakatau' welcome from Jonathan and the Auckland Arts Festival team followed by dinner at the award-winning restaurant The Grove where guests enjoyed a menu especially created for them by Executive chef, Benjamin Bayly.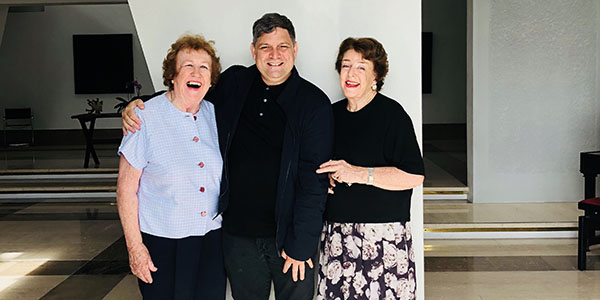 Liz Laverty, Wesley Enoch and Dame Jenny Gibbs
The following day began with morning tea at the home of Dame Jenny Gibbs and the opportunity to enjoy a privileged viewing of her private art collection. Guests then joined Wesley and Auckland Art Gallery Director, Rhana Davenport, for lunch and a private tour of the gallery and ended the day on a significant high with the English National Ballet's stunning new reinterpretation of the classic romantic ballet Giselle, choreographed by dance superstar Akram Khan.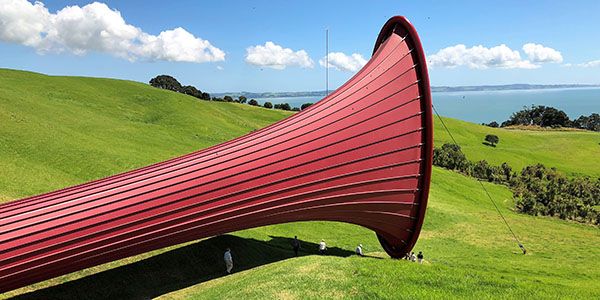 Anish Kapoor, Dismemberment at Gibbs Farm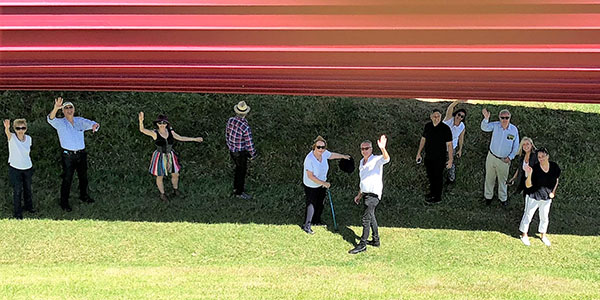 Up close and personal with Anish Kapoor, Dismemberment at Gibbs Farm

Gibbs Farm, home to a world-famous sculpture collection including commissioned pieces by Anish Kapoor, Richard Serra, Andy Goldsworthy, Sol LeWitt and others was the destination on the final day. The special access included lunch at Alan Gibbs' private lodge and some very up-close-and-personal experiences with both the art and the animals who inhabit this unique farm.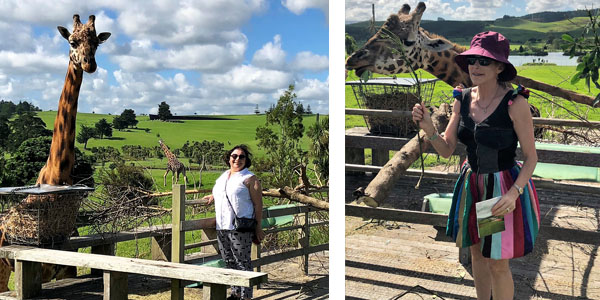 Jacqui Scheinberg and Dr Jenny Solomon talk to the animals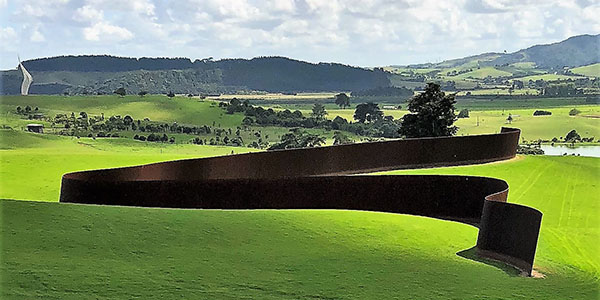 Richard Serra, Te Tuhirangi Countour
Our very special thanks to Jonathan Bielski and the Auckland Arts Festival team, Alan Gibbs, Dame Jenny Gibbs, Rhana Davenport and Jane Sutherland whose generosity made for a very memorable trip and of course, our private donors, whose continued support helps to make the Festival possible.

"Thanks again for such a great experience in Auckland. You put together such a fabulous program and join up such lovely and interesting people" –Julianne Maxwell


Proceeds from Ballet and Art in Auckland support Sydney Festival's commitment to international programming.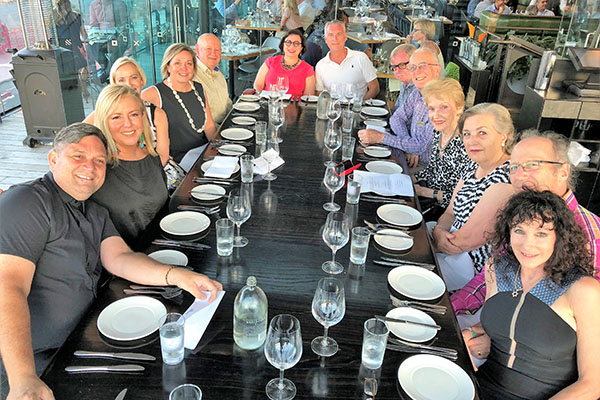 The group, final dinner
Like to join Festival Director Wesley Enoch on the next trip?
Find out more about the benefits of being a valued private supporter of the Festival here or contact Marita Supplee by phone: (+61) 2 8248 6510 or email: marita.supplee@sydneyfestival.org.au.
Main photo: The group, Sol LeWitt, Pyramid (Keystone NZ)