5 #sydfest art exhibitions you can still see after the Festival
January 17, 2019
Words
The big art and big ideas don't stop on 27 January
Oh, you thought the fun was over?

Not just yet – there's still a handful of art exhibitions that remain open after the official end of the Festival. So if you haven't had the chance to check out the art at Carriageworks, UNSW Galleries, Artspace and Cement Fondu, you've still got time to get involved.

Check out the five free Sydney Festival art exhibitions you can still visit below.


#1 Nick Cave: Until at Carriageworks


The American artist's most ambitious, spectacular and sprawling exhibition yet,
UNTIL
has taken over Carriageworks with a forest of colourful spinners, a cavernous room covered wall to wall with weaved beads spelling political messages, and an awe-inspiring chandelier cloud covered with a panoply of arresting ornaments and imagery.
It's a jaw-dropping visual experience with a powerful and pertinent message about gun violence, police brutality, race and gender in America. As Nick Cave puts it, "Is there racism in heaven?"
Nick Cave: Until
Carriageworks
Until 3 March
FREE
More info
#2 Xiao Lu: Impossible Dialogue at 4A Centre for Contemporary Asian Art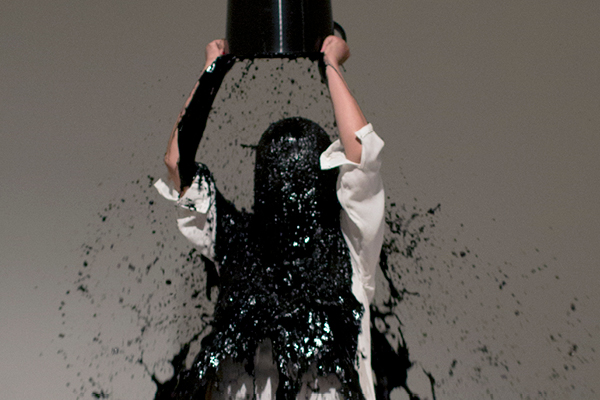 The first retrospective of work by pioneering Chinese contemporary artist Xiao Lu, who had to flee China in 1989 after the opening of the country's landmark first exhibition of contemporary art (an event that preceded the Tiananmen Square protests).

Impossible Dialogue examines Lu's creative interest in deep emotion, extreme action and chance, and presents significant performance works spanning a period of 30 years, including work previously exhibited at the Tate Modern, London and the Guggenheim Museum in New York.

Xiao Lu: Impossible Dialogue
4A Centre for Contemporary Asian Art
Until 24 March
FREE
More info


#3 Just not Australian at Artspace


What does it mean to be 'Australian', and how relevant (or irrelevant) is our national mythology in the 21st century? In this exhibition, acclaimed local artists – including Vincent Namatjira, Abdul Abdullah, Cigdem Aydemir, Karla Dickens and more – engage critically with the public discourse around what it means to be 'unAustralian'.
Don't miss the incredible film
TERROR NULLIUS
by Soda_Jerk, which cuts and splices iconic scenes from Australian films into a punk rock, anarchic reinvention of Australian national identity (including Nicole Kidman BMX biking over
Mad Max
and a boomerang-decapitated Tony Abbott).
Just not Australian
Artspace, Woolloomooloo
Until 31 March
FREE
More info
#4 The Beehive at UNSW Galleries
Unfettered development and gentrification have been massive issues for Sydney since the 1970s, when housing activist Juanita Nielsen mysteriously went missing (presumed murdered) after a meeting at a Kings Cross underworld hangout.
Her disappearance was never solved, and artist Zanny Begg's new work
The Beehive
explores Nielsen's story – and Sydney's greater story of classism and housing affordability – through a combination of scripted fiction and documentary interviews. The video is set to a randomising algorithm, so no two viewings are the same.
The Beehive
UNSW Galleries
Until 23 February
FREE
More info
#5 The Ropes: Amrita Hepi x Adrian Piper at Cement Fondu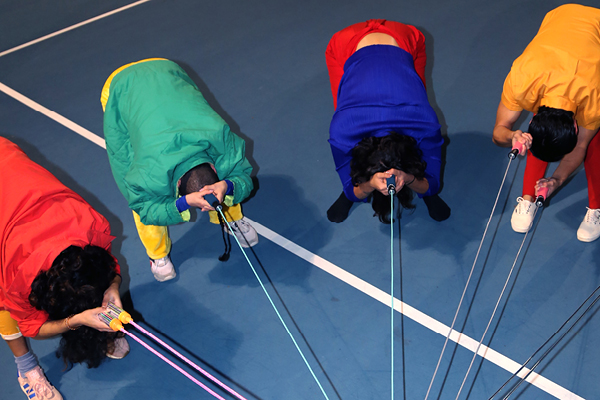 Dancer and artist Amrita Hepi's video work The Ropes is a deeply affecting and visceral engagement with Blak and Pacific experience, explored through the rich history of weaving and skipping. The Ropes evokes how rhythm, rhyme and the body carry self-expression and cultural celebration, as well as political and social turbulence.

Hepi's work is paired with a survey of video works by American conceptual artist and philosopher Adrian Piper, whose influential practice has, over decades, revisited how art and dance can together bridge cultural, social and racial divides.

And while you're there, stop into Cement Fondu's Project Space to see a presentation of new and existing works by the Yirran Miigaydhu weavers, an Aboriginal Women's weaving program initiated by Campbelltown Arts Centre, and led by Aunty Phyllis Stewart, for local Aboriginal women to learn the tradition of weaving.

The Ropes: Amrita Hepi x Adrian Piper
Cement Fondu, Paddington
Until 24 February
FREE
More info
Back to
Stories