A Crimson Grail in Pictures
Back to
Stories
April 27, 2018
Words
In January, 100 guitar players formed an orchestra at Carriageworks to perform the renowned American composer Rhys Chatham's A Crimson Grail for the first time in Australia.
The concert was a significant undertaking. We recruited musicians from across the country for two performances, and held five rehearsals. The group was broken down into six sections, each with its own tuning and string gauge, as well as a section leader, guiding the instrumentalists through the three movements. At each show, the audience was surrounded on three sides by the orchestra, and the hall became awash with textural harmonics, a heady blend of '60s overtone minimalism and the raw fury of the Ramones.
One of the many volunteer musicians participating was Sarah Lorien, a photographer and musician. She attended the rehearsals and concerts with her guitar in one hand and camera in the other, and documents her experience below.
---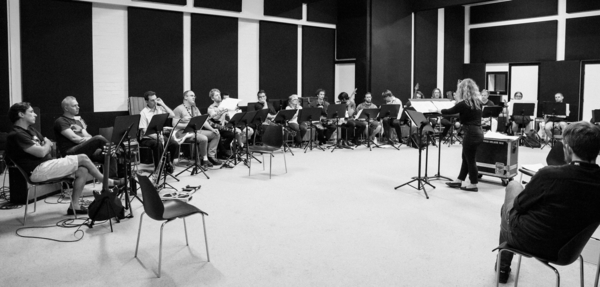 1. When we signed up for A Crimson Grail there was no real way to predict what the experience would be like. The appeal for me was the opportunity to be involved in something that was clearly outside the realm of the everyday, and of course to be part of Sydney Festival. There were a few videos online of the previous performances of the piece, of which there are only three – Paris (2005), New York (2009), and Liverpool (2012) – videos that I would later come to realise could never possibly convey anywhere near the full extent of what this event is for the audience or for the musicians.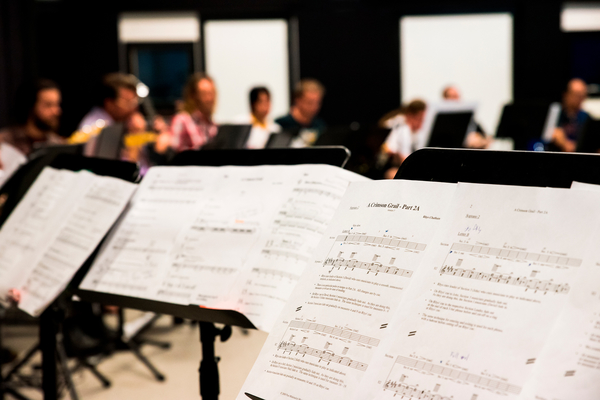 2. Our rehearsals began at Top End Sound Studios in Marrickville. We were divided into four sections, each with its own conductor. The first task was to restring our guitars for Rhys' very unique tuning. Every amp was safety checked and our conductor, David, began to explain how things would unfold.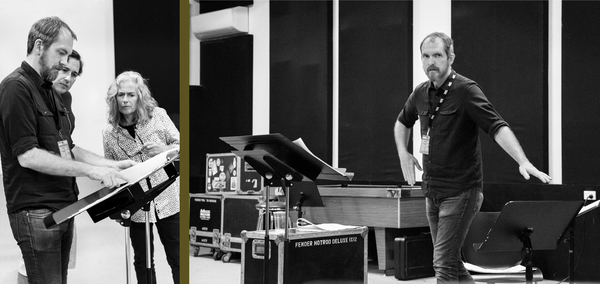 3. As with any orchestra, a number of different parts are being played simultaneously. When this piece is performed, all guitarists are lined up around the perimeter of the venue, facing the audience, with our amps behind us. To achieve sonic balance throughout the room this of course means that each section must contain all of the parts. So a big – really big – part of learning this piece was watching the conductor and understanding the cues he was giving individual musicians according to their part. Fortunately Michael (Trifunovic) was seated next to me with answers to any questions I had about the score. He's a member of Jim Moginie's Electric Guitar Orchestra so is familiar with this style of music. A lot more relevant than my piano theory from a lifetime ago...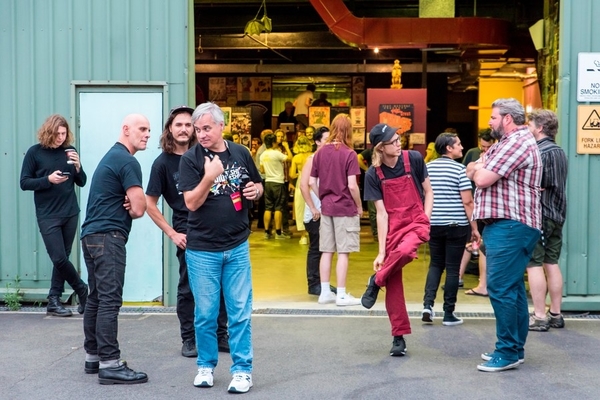 4. This photograph is actually one of my favourites from the whole week. During a break at the rehearsal studio it captured a moment that illustrates so well the diversity of people who came together to make this a reality. Every one of us volunteered our time for five days of rehearsals and performances. Guitarists from all walks of life, all genres of music, all ages. A fair number from Sydney but also people from interstate and even overseas who came to Sydney solely to participate.
5. And here we have the man himself – Rhys Chatham. He is softly spoken, quick with humour and always a gentleman. At all times Rhys and his team (from the USA and Paris) treated us with respect and appreciated our time. The logistics alone of coordinating the event were huge, and they did a fantastic job.

6. Carriageworks. In all the times I'd been there prior to this event I hadn't seen this space. It was the perfect venue. This outlook is from the stage where Rhys stood as master conductor, leading the four section conductors who were positioned in the audience on platforms raised just enough to communicate with us, with each other and with Rhys.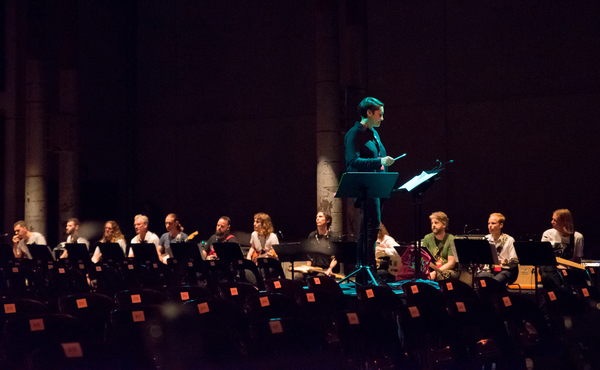 7. When we moved from the rehearsal rooms at Marrickville to our final rehearsals and performances at Carriageworks we maintained our sections. On the final night after our performance I was still meeting people from other sections for the first time.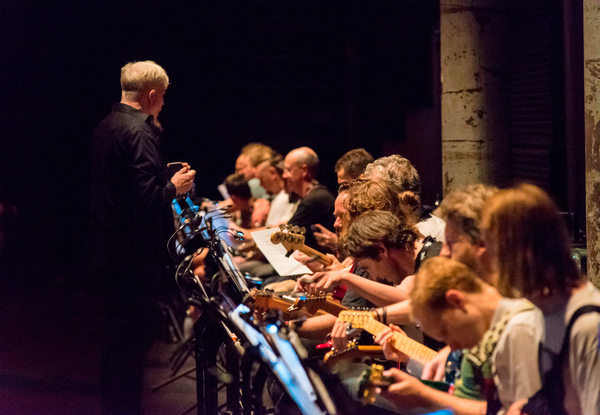 8. Rhys took the time during rehearsals to move around the room and meet his musicians.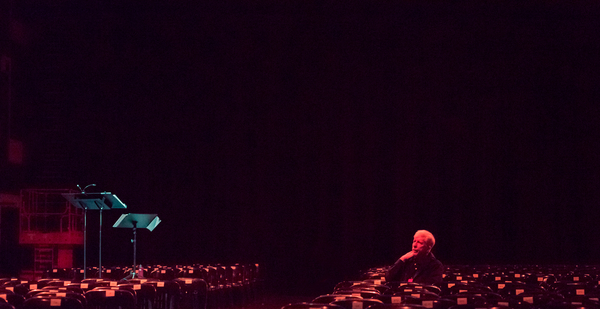 9. Then there were moments like this where he sat and listened to his music fill that giant room. I'm so pleased to have been part of this incredibly special experience as a musician and photographer. Sydney Festival has an inspiring history of selecting unique acts to perform across multiple venues every year and I'm looking forward to 2019.
Sarah Lorien is a musician and photographer who is dedicated to both art forms, and especially enjoys opportunities to combine the two. Sarah has been working with guitarist Michael Trifunovic in Sydney band Aqualash for over two decades, creating atmospheric trip-pop. Their music evolves from layers of guitar soundscapes, textures and vocals so it's no surprise Michael was also a guitarist in A Crimson Grail. Sarah's photography business is inspired by the artisan rather than the ordinary, in weddings, family and all forms of portraiture.

Main performance shot by Prudence Upton. All other photos by Sarah Lorien.