BACK TO STORIES
10 unusual experiences you can only have at Sydney Festival
From world premieres to the truly weird
In January, Sydney Festival plays host to all sorts of interesting and unusual art and performance experiences, from a parade of yōkai (mischievous supernatural Japanese spirits) to a body-shaking organ performance in Sydney Town Hall (experienced lying down) and a giant inflatable maze of domes and twisting walkways, bathed in the luminescent light from outside.
Here are 10 exceptional and unusual experiences which you can only get at Sydney Festival this January. Some are world premieres, some are exclusives, and at least one involves "motorbike-riding frogs, theremin bats and edible scenery". Explore all 10 below.
---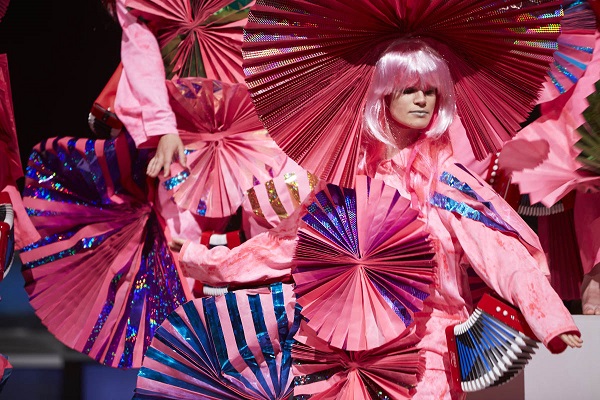 She Conjured the Clouds
Visual and installation artist Justene Williams is known for epic, hyper-colour, psychedelic works, and in She Conjured the Clouds she turns her hand to performance, with an immersive theatre show for kids and adults, where the audience takes part and can even eat parts of the scenery. She Conjured the Clouds is all-inclusive, especially for those from the Deaf and hard of hearing communities.
Campbelltown Arts Centre
16–18 January
$25 + booking fee
Tickets and more
---
Holly Herndon
Winner of the 'Future Award' at the International Music Awards in 2019, Holly Herndon's boundary-pushing live AV show is all about exploring the literal future of music: performing her latest album Proto, composed with and performed alongside an artificial intelligence program that Herndon created and programmed with human vocal samples.
Magic Mirrors Spiegeltent
16 January
$39 + booking fee
Tickets and more
---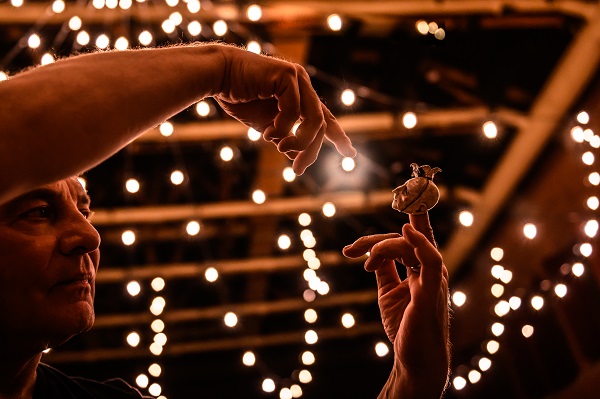 Forget Me Not
Marionette master Ronnie Burkett (The Daisy Theatre, Sydney Festival 2018) has been performing theatre with puppets for many decades – his shows are deeply personal explorations of the human condition and modern politics, told through the medium of wooden marionettes. Burkett returns to Sydney Festival in 2020 with a powerful new work about a dystopian future, where each audience member plays a part in the story.
Carriageworks
14–26 January
$79 + booking fee
Tickets and more
---
Joan Didion's The White Album
Joan Didion's iconic and landmark essay The White Album has terrifying parallels to today: institutional racism, a breakdown in social cohesion, a disaffected and anxiety-ridden populace and a puffed-up celebrity as American President.
Artist and director Lars Jan gives Didion's acutely sharp text a fresh take with new staging that includes a play with a play (and if you're 18 to 25, you can apply to be a part of that onstage audience/performance group – follow the link below for all the details).
Roslyn Packer Theatre, Walsh Bay
8 –12 January
From $69 + booking fee
Tickets and more
---
Dodecalis Luminarium
Explore an immense, radiantly lit, inflated labyrinth of winding paths and soaring domes in Darling Harbour's Tumbalong Park. Wander through the otherworldly interior of the Dodecalis Luminarium bathed in the radiant colours of daylight shining through its translucent fabric.
Tumbalong Park at Darling Harbour
8–26 January
Free general admission, ticketed sessions available
More info
---
Bronze Lands (Tailte Cré-Umha)
Lie down on a mat on the floor of Sydney Town Hall, put in your ear plugs and experience the body-quaking sounds of Robert Curgenven's composition for the Sydney Town Hall organ, once the largest instrument of its kind in the world, and super-charged with decibel-boosting speakers.
Sydney Town Hall
21 January
$39 + booking fee
Tickets and more
---
Romances inciertos, un autre Orlando
Baroque music, Spanish folk tradition and spectacular dance choreography combine in this spectacular dance and music performance, where choreographer-dancer-singer François Chaignaud and four period-instrument musicians slice through Spanish history from the Golden Age to the 21st century, in a joyously theatrical blend of Baroque music, cabaret, flamenco, and gender play.
Carriageworks
21–26 January
From $60 + booking fee
Tickets and more
---
The Mermaid
A moving and often confronting parable about the climate emergency and humans' treatment of the earth performed by artist Hanna Cormick, who suffers from a trifecta of rare diseases and risks experiencing medical emergencies at any point during the performance.
The Coal Loader, Waverton
18 January
$15 + booking fee
Tickets and more
---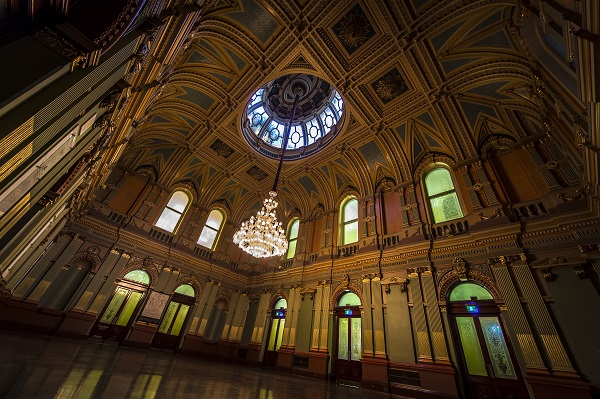 Midday Salons at Town Hall Vestibule
Ever stood in the marbled splendour of the Vestibule at Sydney Town Hall to hear an intimate performance by some of Australia's finest classical musicians? No? Well now's your chance – be quick though as tickets are very limited.
Sydney Town Hall
14–17 January
$49 + booking fee
Tamara-Anna Cislowska: Tickets and more for 14 January
Sally Walker and Simon Tedeschi: Tickets and more for 15 January
Elena Kats-Chernin: Tickets and more for 16 January
Four Hands at the Piano: Tickets and more for 17 January
---
Night parade of one hundred goblins
AGNSW's blockbuster summer exhibition Japan supernatural comes to life with an immersive theatre experience, as a parade of yokai (Japanese ghosts and spirits) make their way through the entrance gallery, then explore the exhibition itself as a heady soundtrack composed by Tokyo-based musician Eiko Ishibashi interweaves with actors performing live murmurings of kyoka, Japanese 'mad poetry'.
Art Gallery of NSW
16–25 January
$65 + booking fee
Tickets and more
WANT MORE? HERE ARE 5 UNIQUE LIVE MUSIC GIGS YOU'LL ONLY SEE AT SYDNEY FESTIVAL