You need to see Tree of Codes
Back to
Stories
October 29, 2017
Words
Maybe you're an expert in contemporary dance; maybe you're looking for an accessible entry point. Either way, you're going to want to see Tree of Codes, a three-way collaboration between some of the most innovative minds in dance, art and music. Why? Let us explain.
1. For the surreal, experimental source text
Acclaimed American author Jonathan Safran Foer published experimental novel
Tree of Codes
in 2010. He took his favourite book –
Street of Crocodiles
by Bruno Schulz – and physically carved out letters and words to create a work that's both an entirely new story and a sculptural artwork. (If you take out most of the letters in
Street of Crocodiles
you end up with
Tree of Codes
, see?)
Choreographer Wayne McGregor figured this experimental book, which combines physical art and abstract storytelling, would be the perfect source text for a dance, music and visual art collaboration he was planning.
2. And the outstanding dance
McGregor is one of the world's most innovative choreographers – he's choreographed movement for everything from the Paris Opera Ballet to a
Harry Potter
film and clips for Radiohead and Atoms for Peace (yes, Wayne McGregor is the man responsible for Thom Yorke's wild dancing in the
Lotus Flower

film clip
).
McGregor is fascinated with the idea of combining cutting-edge technology with human movement; his other new show
Autobiography
was choreographed using his DNA sequence as the source text. His dance company is even based at London's Queen Elizabeth Olympic Park, alongside major science and tech companies.
To create the choreography for
Tree of Codes
, McGregor went through the book to find a different spatial, rhythmic or emotional idea on each page and designed corresponding movements.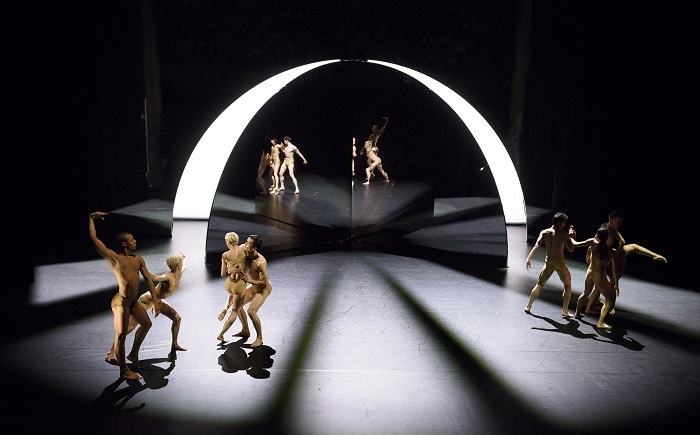 3. Also the crazy set design
McGregor had wanted to work with Danish-Icelandic installation artist Olafur Eliasson since 2003, when he saw a dance piece staged at the Tate Modern in front of Eliasson's artwork
The weather project
.
Eliasson's practice is known for using simple materials to create large, colourful, immersive visual experiences.
The weather project
used a mirrored ceiling, a giant circular disc of yellow lamps and a fine mist made of sugar and water to bring a setting sun inside the Tate Modern. In
Green River
, he used an environmentally friendly powder to turn entire rivers in Scandinavia, the US and Japan bright green. And
Your rainbow panorama
is a huge circular corridor made from glass in every colour of the spectrum, mounted atop a Danish museum.
For
Tree of Codes
, Eliasson (who, oddly enough, is friends with Jonathon Safran Foer) decided to run with the idea of the words in the book being weightless. He experimented with mirrors and colourful reflective discs suspended over the stage to create a disorienting visual landscape for the dancers to move in.
"You just don't know where you are, or where the floor is," McGregor says. "It's quite unusual."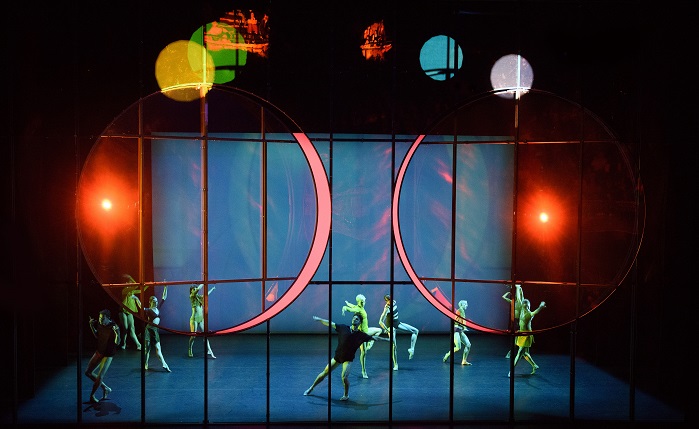 4. And a soundtrack of brand new Jamie xx
Here's the kicker – when you come to
Tree of Codes
, you'll be among the first to hear brand new music from Jamie xx, the wunderkind producer beloved for the minimalist, emotional intensity of his production for The xx, and for his solo work that distils the entire history of UK rave, house, jungle, garage and grime into singular, speaker-rattling bangers.
To create the soundtrack, Jamie xx also started with the book, using it very literally as the basis for each track: he came up with an algorithm that he could feed the pages into and produce basslines, which he used as the foundation for each section.
"The reaction I had to [
Tree of Codes
] was really visceral," Jamie xx said. "It suddenly sparked all these ideas: I could immediately see patterns and rhythms in it, even melodies. Instantly. The music I've made closely matches those first reactions I had to the book."
The music, he says, has his signature sound – but with more freedom.
"I've been able to do things that I would never put out on a record. It's been exciting to have the opportunity to run away with my own thoughts and ideas," he said. "I've never made so much music in my life. It's been great to know that I have to get that much music out – just to keep going."
5. Melbourne fans were obsessed with it
Tree of Codes has just finished playing at Melbourne Festival and the punters were all over it – we're talking superlatives like "perfection," "magical," "exhilarating" and a "masterpiece". Check out some of the most rapturous tweets below.
Feel so privileged to have seen #treeofcodes @melbfestival . Magical beautiful moving sexy gorgeous

— Bridget Weller (@KatSpectre) October 21, 2017
#melbfest #TreeofCodes was mesmerising! ? a beautiful amalgamation of #dance #music & #art ????

— Evanthia (@CyberKittyFace) October 21, 2017
#TreeOfCodes at @melbfestival last night was joyous, sensual, imaginative, exhilarating. Thankyou @JonathnHolloway!

— Hayley May Ward (@misseward) October 21, 2017
Just saw Tree of Codes at @melbfestival. One of the most beautiful things I have ever experienced.

— Michael Mouritz (@MichaelMouritz) October 20, 2017
Tree of Codes is absolutely spectacular. Dream team. #melbfest @artscentremelb

— Stephanie Brotchie (@sbrotchie) October 20, 2017
Check out the interview below with Wayne McGregor and Olafur Eliasson by
The Creator's Project
, and secure tickets for the four performances of
Tree of Codes
at ICC Sydney
over here
.
---
Nick Jarvis is a journalist, copywriter and Publications Editor at Sydney Festival and Sydney Film Festival. He's written for Vice, Time Out, inthemix, Junkee and various other online media and street press over the years.