Indulge in the flavours of our luxurious Baroque Banquets
Back to
Stories
December 14, 2017
Words
Feast at a table groaning with food.
Rembrandt Live premieres at Sydney Festival between 6 and 23 January – an immersive experience that sees musicians from the Australian Brandenburg Orchestra and actors directed by John Bell perform amidst the splendour of Dutch golden age masterpieces at the Art Gallery of NSW.

A lucky few will also get to involve their taste buds in this feast for the eyes and ears. A decadent Baroque Banquet has been designed by Matt Moran and Chiswick at the Gallery head chef Tim Brindley, to evoke the flavours of the age and the visual opulence of the era's still life paintings of tables overflowing with food.

To get a better idea of how the Baroque Banquets (18 and 19 January) will look and taste, as well as how closely they'll reflect the era, we spoke to Josephine Touma from the Art Gallery of NSW.

What was your role in researching the menu for the Baroque Banquets, and where did you source most of the info?

I was the exhibition researcher for Rembrandt and the Dutch golden age and during my research into the paintings and their cultural context, I continually came across stories about food in 17th century Dutch culture. I knew there was potential there for a very special food event.

So many of the paintings speak to the economic and cultural history of food: the paintings of ships that carried spices and other imported foods and tableware from across the world to Europe, pictures of families at the dinner table or of vegetable markets and herring sellers, and of course the magnificent still lifes, showing tables groaning with fruit, vegetables, fish, cheese and wine.

The international spice trade was a huge factor in the Dutch prosperity that supported the burgeoning art market. In the 17th century, the Dutch came to monopolise trade in spices and other luxury goods through the Dutch East India Company—the world's first multinational company, which had its headquarters in Amsterdam and Jakarta, Indonesia. So when the idea of the Baroque Banquets emerged, I pulled together all these stories, with lots of visual references (paintings of the era) into a brief for the chefs at Chiswick at the Gallery as a starting point to inspire the menu.

What were the main ingredients and flavours in recipes of the Dutch golden age? What were some of the stand-out or most popular dishes?

Fish, dairy products and bread were all staples of the Dutch diet. As a sea-bound and sea-faring nation, the Netherlands had access to abundant seafood. They also developed strong dairy and grain-milling industries. According to food historian Garrit van Dyk, the English were astonished at the amount of butter that Dutch mariners ate, calling them 'butter boxes' (see Garrit's blog on our website).

Pickled herring was (and still is) a key Dutch dish – there was even a comic theatre character named 'Pickled Herring'. And baked goods could be sweetened or enriched with butter, especially on festive occasions. Waffles, pretzels, donuts and spiced biscuits (speculaas) are just some of the 17th century baked treats that are still popular today.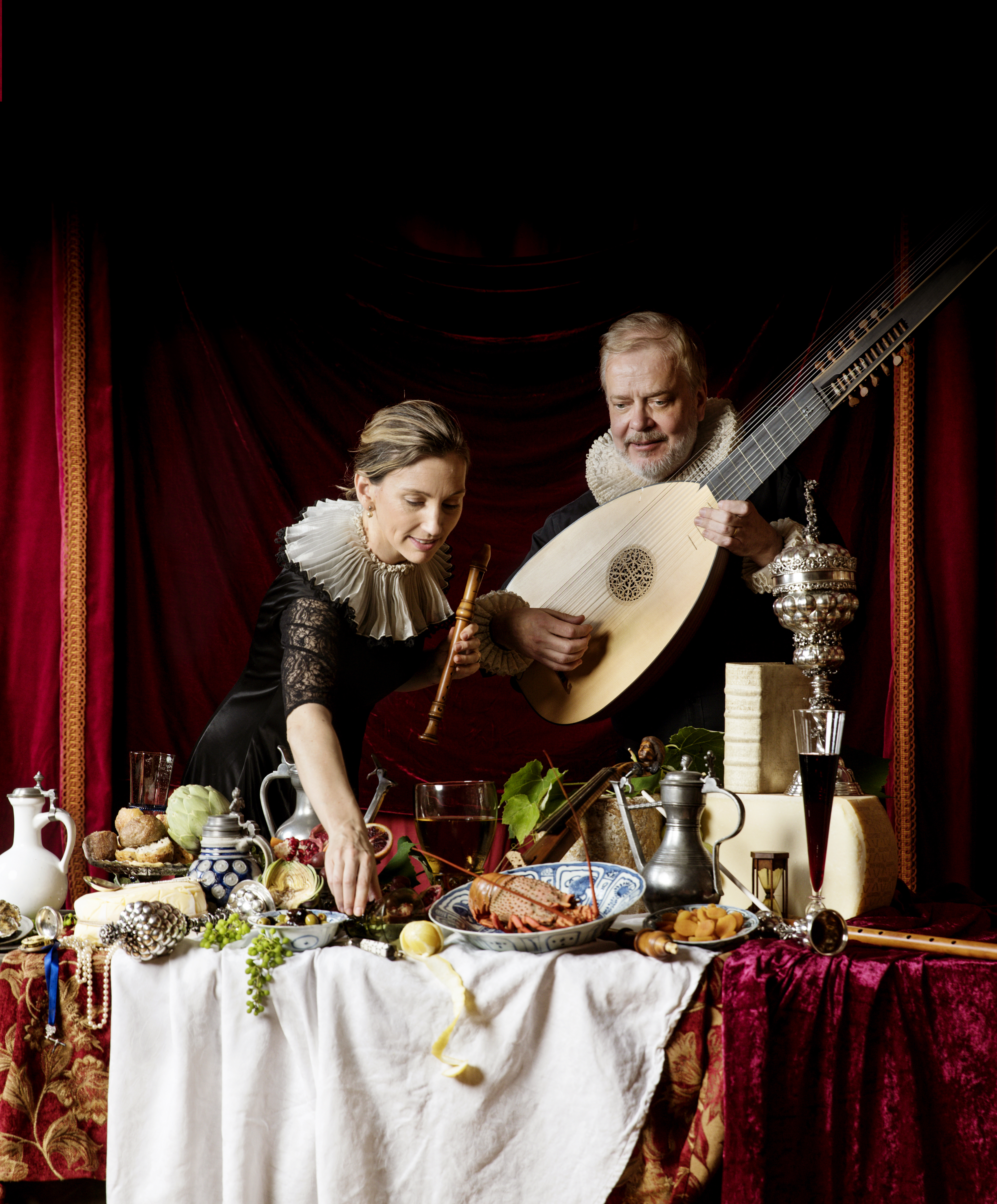 Rembrandt Live photo for SMH Good Food by Louie Douvis

How will these flavours and recipes be represented at the Baroque Banquets?

The chef has cleverly interpreted 17th century Dutch flavours for the modern palate. Pickled herring makes an appearance, freshened up with juniper yogurt. The shared entrees reflect the variety and abundance of produce often seen in elaborate still life paintings of the era.

Seafoods, cheeses and breads refer to the basics of the Dutch table, but the spiced biscuits, chocolates and exotic fruits hark back to the luxury foods of the 17th century. I'm glad that pineapples made it into the table styling—they were exceptionally rare in Europe in the 17th century, as they would perish on the long journey from the tropics and had to be cultivated with great effort in European hothouses. They became both a curiosity and a real luxury. Can you imagine how bizarre it must have been to encounter a pineapple for the first time?

Was there a vast difference in the baroque era between the diets of the rich and poor? Anything that would seem unusual now, e.g. oysters being a staple of the poor?

In the Dutch Republic, the standard of living was generally higher than in other parts of Europe and prosperity was more evenly shared. It was the middle classes who enjoyed the fruits of Dutch enterprise, not the monarchy or aristocracy as in other parts of Europe. But most people still relied on the staples of bread, cheese, butter, root vegetables and fish.

Oysters weren't the luxury that they are today (they were fairly abundant) but only the wealthy could afford to sprinkle their oysters with pepper and lemon, which were very expensive imported products. A wide range of people could afford to buy locally-made beer (brewing was an important Dutch industry), but wine from the Mediterranean or Germany might have been less accessible—and it was often spiked with honey or spices (which sounds unappealing to modern tastes).

And the rich could obviously afford to plate their dinner on magnificent luxury tableware, such as highly-prized porcelain imported from China or Japan (Europeans didn't learn the secret of porcelain making for another century), or silver platters and goblets fashioned into elaborate baroque designs. Sometimes these objects would be piled high with luxurious food in the Dutch still life genre known as the pronkstileven (ostentatious still life), such as Pieter de Ring's Still life with golden goblet (1640-1660, below) – a point of visual inspiration for the Baroque Banquets.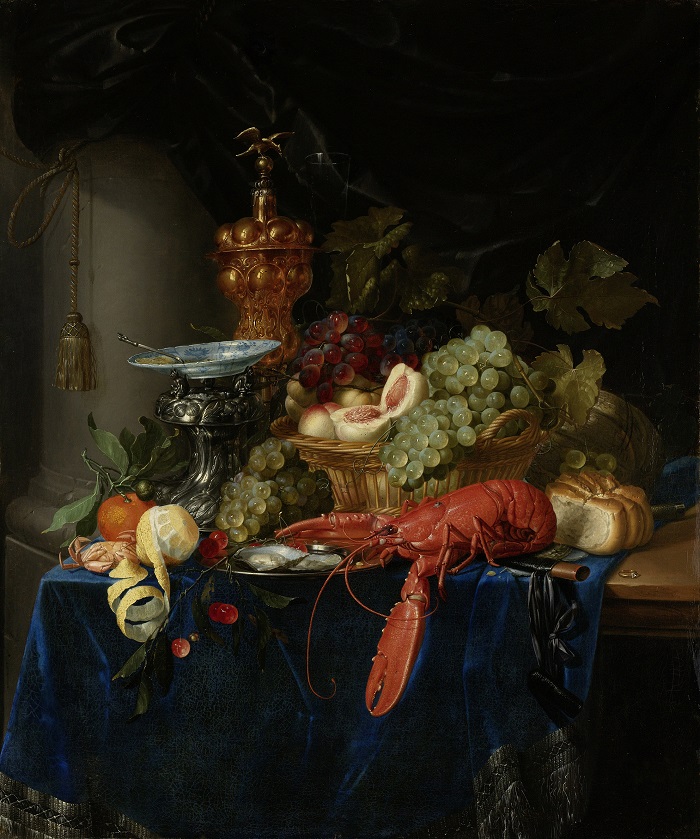 Pieter de Ring, Still life with golden goblet, 1640-1660

Was it a particularly balanced diet? Or a decadent one?

The prevailing Protestant morality encouraged modesty and moderation – so to gorge on a huge feast (whilst a wealthy merchant might be able to afford it) would have been unseemly. I'm sure some people did overindulge, but it was not a flamboyant society (unlike, say, their aristocratic French neighbours. King Louis XIV was known to throw particularly decadent feasts and to gorge on outrageous amounts himself).

So the emergence of the pronkstileven in such a modest, god-fearing society is curious. Are those paintings a celebration of abundance and the beauty and bounty of god's creation? Or are they warnings against the excesses of consumption (as they are often interpreted)? They certainly don't seem to be a realistic depiction of the Dutch table – I see them as fantasies of artistic creation, where both natural and man-made goods are offered up for our visual delectation and moral contemplation.

Was there anything that came up in your research that really surprised or shocked you?

The very sad reality that the Dutch sugar industry was entirely reliant on slave labour. Sugar was another of those luxury imports, farmed in Brazil by West African slaves, and imported into Europe by the Dutch East India Company.

In fact, it is very sobering to consider that thousands of people must have died or suffered terribly as part of the very dangerous and aggressive maritime trade enterprise – many battles were fought over securing that lucrative spice route.

On a lighter note, beer, apparently, was safer to consume than drinking water. Which sounds like an excuse to drink some of that excellent Dutch beer this summer!

BOOK TICKETS TO REMBRANDT LIVE AND THE BAROQUE BANQUETS HERE



---
Nick Jarvis is a journalist, copywriter and Publications Editor at Sydney Festival and Sydney Film Festival. He's written for Vice, Time Out, inthemix, Junkee and various other online media and street press over the years.