Insane behind-the-scenes photos from 2018's circus shows
Back to
Stories
November 21, 2017
Words
Hamish McCormick is an ex-circus performer turned filmmaker and photographer, who has been documenting Australia's contemporary circus community for the past 15 years as independent online Circus Culture & Arts magazine Carnival Cinema.

McCormick has been behind the scenes for the development of many of the circus and circus-related shows in the 2018 Festival program, including Model Citizens, Backbone, Briefs and It's Not For Everyone.

We asked McCormick to look back through his cache of photos and pick some of the most jaw-dropping images that capture the impressive physicality of each show, and to tell us a bit of the background story of each photo. Check them out below.

---
Model Citizens – Circus Oz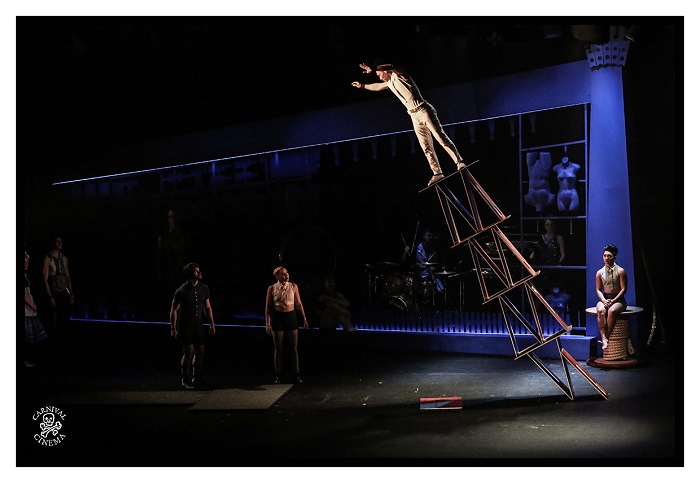 Circus Oz Pic 1: "The steely precision of Luke Ha as he controls his fall on an 'oversized credit card stack' – it's a heart-stopping moment in Circus Oz's latest show Model Citizens. Director Rob Tannion and designer Michael Baxter have been playing with oversized everyday objects and how they can be used as circus props."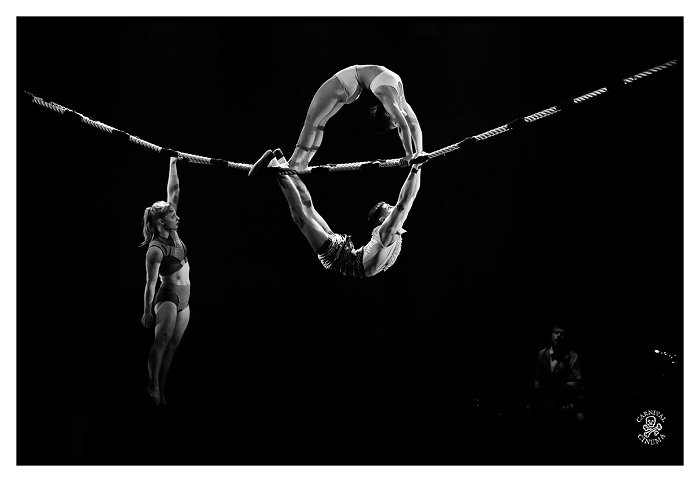 Circus Oz Pic 2: "Freyja Edney, Rose Chalker McGann & Jarred Dewey hanging around on the new rope ladder apparatus in Model Citizens. Along with the 'no fear' attitude you have to have dangling eight metres above the stage without a harness, these three (along with other ensemble members) have taken skills learnt from more conventional aerial apparatuses such as trapeze and aerial silks to create a unique routine on this new prop."
Backbone – Gravity & Other Myths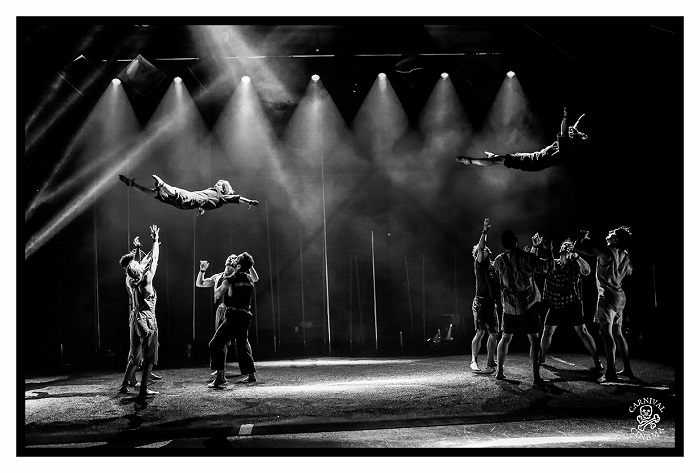 Gravity & Other Myths Pic 1: "The unique thing that Gravity & Other Myths have is the majority of them grew up together and have been doing circus together from a young age. This has created a level of trust in each other, which enabled them to push the acrobatics in their show to a new level. This shot is in the middle of a high intensity 'Toss the Girl' routine that just keeps ramping up, taking the audience on a nail-biting ride."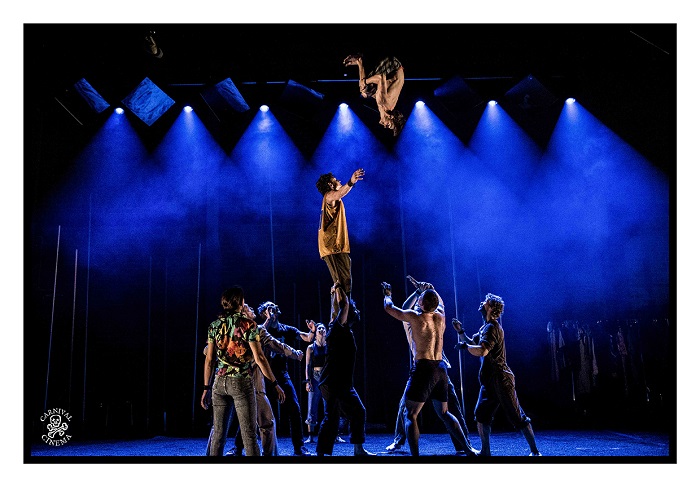 Gravity & Other Myths Pic 2: "Backsault to three high… I filmed these guys practising this trick over and over again (in a harness), failing time and time again till they got it. In the show, there is a moment of quiet focus just before Harper gets pitched where the whole theatre holds their breath. It's also one of the tricks which highlights the importance of, and the trust in, the 'Spotters', the people on the ground ready to catch the acrobats if the trick goes wrong – and it does."
Briefs: Close Encounters – Briefs Factory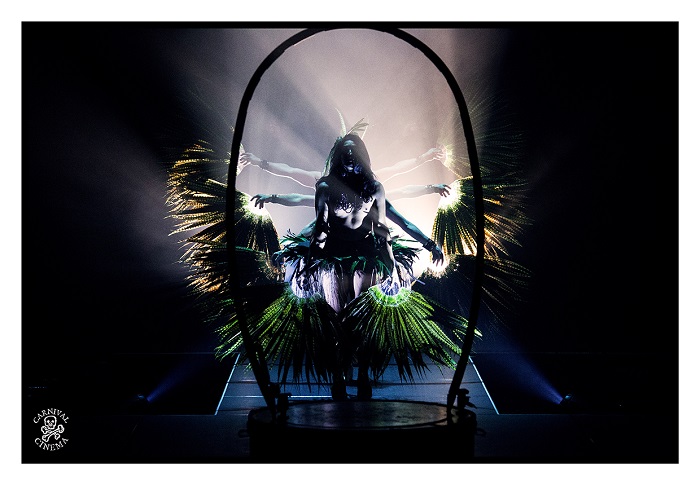 Briefs Pic 1: "Briefs Factory's fearless leader Fez Fa'anana leading the boys in the opening fan dance sequence of their show Briefs: Close Encounters. This show is full of important political messages all wrapped in a hugely enjoyable and raucous journey of cabaret, dance, circus and boylesque – constantly challenging our preconceived ideas of drag shows and masculinity in its many forms."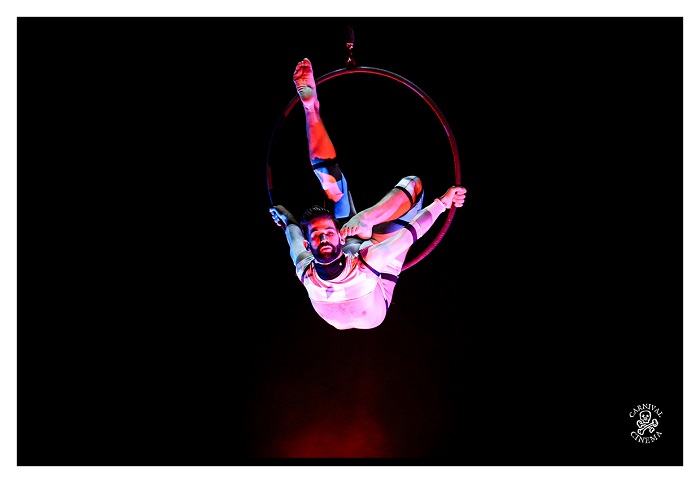 Briefs Pic 2: "The strength and flexibility of the one and only Thomas Worrell. This pic captures a moment of stillness, but it always amazes me how he manages to stand and walk after spinning a million miles an hour in the air."
It's Not For Everyone – Acrobat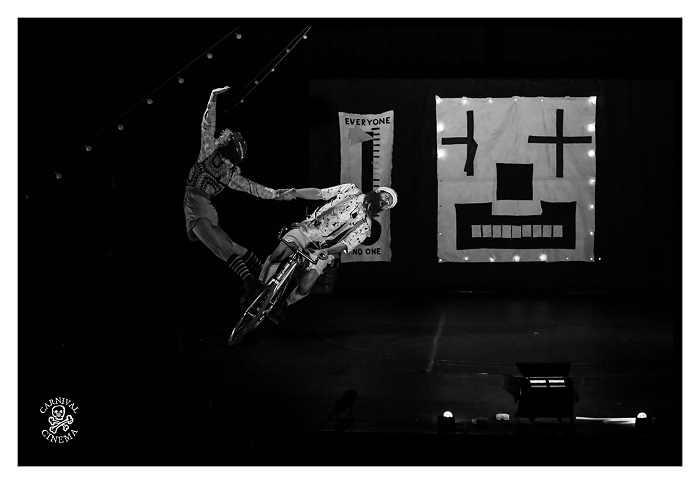 Acrobat Pic 1: "Acrobat (Simon Yates & Jo Lancaster) are legends in the Australian circus community. They are the true punks of our scene, never letting their artistic vision get swayed to fit into the 'mainstream'. Their show It's Not For Everyone is unflinching political physical theatre at its best. This shot is a rare 'trick' in a show."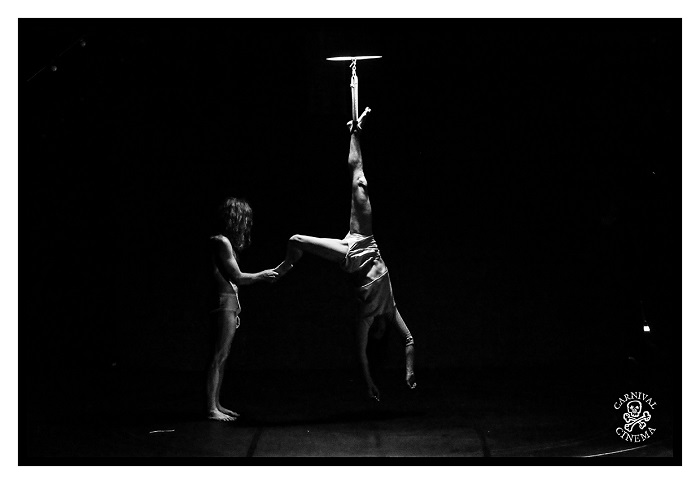 Acrobat Pic 2: "One of the most intense scenes I've seen in a show in recent years, a quiet and methodical yet hard-hitting statement about domestic violence, the images of which will stay with you long after you've left the show. It's a hugely effective commentary done without a word."